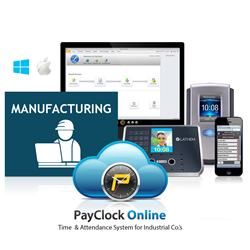 The biggest benefit of PayClock Online is the ability to check and handle any time and attendance issues from wherever I am. When I'm in the plant, I can go to the nearest PC and make adjustments there. - James Poole of Mullen Box
(PRWEB) December 05, 2014
Small manufacturers nationwide are choosing Lathem's PayClock® Online to manage employee time and attendance for hourly employees and subcontractors, reducing payroll processing time and making it easy to administer employee time records from any PC.
Interior Packaging Design in Ohio, Mullen Box in Georgia, Big River Rubber & Gasket in Kentucky and FLG Composites in Florida are among the many Lathem customers that benefit from cloud-based employee time and attendance.
Mullen Box is a corrugated box manufacturer focused on quality delivery of customer orders. Its 25 employees easily clock in and out with Lathem's PC600 proximity badge time clock, and all records are updated in real-time in cloud-based PayClock Online. This allows Mullen Box accountant James Poole to access and manage time records from any computer in the plant.
"I'm walking the plant 90 percent of my day," Poole said. "The biggest benefit of PayClock Online is the ability to check and handle any time and attendance issues from wherever I am. When I'm in the plant, I can go to the nearest PC and make adjustments there. Having a cloud-based system makes life so much simpler, instead of being tied to a specific PC or handling manual punch cards."
FLG Composites, an aviation repair company, uses PayClock Online for its employees and subcontractors. Administrative Manager Claudia Lopez can easily manage the entire workforce, regardless of classification.
Lopez said, "PayClock Online saves the company time so we can be more productive in all areas, and helps us improve in our lean culture. Our repairs have to have a fast turnaround time, and PayClock Online tells us exactly how much time our employees are spending in the shop or on other duties."
PayClock Online benefits for the manufacturing industry include:

Anytime, anywhere access, making it easy to manage time and attendance for hourly plant employees and subcontractors from any computer, tablet or phone.
Reduction in payroll processing time.
Mobile functionality benefits field-based workers.
Accurate, real-time records enable a better understanding of how workers are spending their time.
Ability to edit time records in advance instead of all on payroll day. Make changes, resolve issues and integrate data into the payroll system, reducing payroll day stress and optimizing office operations.
Integrates seamlessly with time clocks, including proximity badge, biometric fingerprint and facial recognition time clocks.
"PayClock Online works particularly well for the manufacturing industry," said Lance Whipple, Lathem vice president, Sales and Marketing. "Employees and managers of manufacturing plants are not tied to a desk all day, so a cloud-based time and attendance system works perfectly for them. When workers clock in, all records are seamlessly integrated into the system in real-time, and managers can immediately access the information from wherever they are. PayClock Online makes sense to streamline efficiencies for the manufacturing industry."
About PayClock Online
PayClock Online is a cloud-based solution that enables businesses to manage time and attendance anytime, anywhere with an Internet connection. This web-based employee timekeeping system allows managers to quickly process payroll on their own time, when it is most convenient for them. Mobile functionality lets managers track remote employees' hours or administer payroll from their own mobile devices. It's easy to set up employees to clock in and out from their computers, mobile devices, or even Lathem time clocks, and enable them to view their own time records and paid time off information on the web without supervisor assistance. PayClock Online easily integrates with popular payroll software systems like QuickBooks, Paychex, ADP and more.
About Lathem
Headquartered in Atlanta, Georgia, Lathem is the leading provider of durable and affordable timekeeping products for business. Founded in 1919, Lathem remains a family-owned and operated US manufacturer. More than 1 million organizations worldwide use a Lathem solution every day to help manage their business, including Lathem's PayClock Online cloud-based time and attendance systems, wall clocks, and biometric and mechanical time clocks.
In celebration of their 95th anniversary, Lathem's year-long sales event makes it easier for small businesses to upgrade to the latest technology in employee time and attendance management to improve productivity and streamline the payroll process.