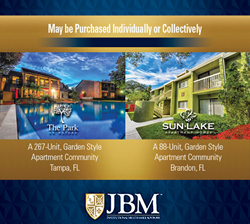 Tampa, FL (PRWEB) December 08, 2014
JBM™ launched to market The Park on Waters in Tampa and Sun Lake in Brandon, Florida. The Park on Waters consists of 267 units and Sun Lake is comprised of 88 units. The Properties offer the ability to obtain 355 multifamily units in the Tampa Bay MSA in a single transaction. In addition, the Properties are being offered on both an individual or collective basis. Each of the Properties are located in densely populated, developed areas proximate to major demand drivers just minutes away from major linkages providing access to employment centers, shopping, dining, entertainment and recreation areas.
The Properties represent a true value-add opportunity due to each of the Properties central locations, attractive amenity packages, and overall quality construction. Both Properties offer the opportunity to increase rental revenues through the implementation of a proven strategic interior renovation program. Furthermore, Sun Lake offers excess land along commercial road frontage that could be used for amenity area expansion, the development of additional units or for commercial development.
About JBM™ Institutional Multifamily Advisors
JBM™ Institutional Multifamily Advisors is the most reliable source of brokerage services in the institutional multifamily asset and investment industry with Florida offices located in Tampa, Orlando, and Naples. JBM™ specializes in the sale of high-rise, mid-rise and garden style apartment communities throughout the Southeast United States and focuses exclusively on asset disposition services, capitalization and recapitalization of existing and merchant development opportunities of large apartment type portfolios and singular assets for Domestic and Foreign Institutional, Private National and Regional clientele. The firm's collective team efforts have exceeded $8.9 Billion and over 102,000 apartment units listed, marketed and sold. The firm delivers a strong legacy of excellence in representation and the most effective investment sales platform throughout the Southeast United States, meriting Jamie May and JBM™ as a trusted leader in the multifamily industry.
If you would like more information about the Properties or to schedule an interview with Jamie May, Chairman & CEO or Eddie Yang, Principal and Executive Director please, contact Claudia Raines at 813.812.5003 or email. To learn more, please visit: JBM.com