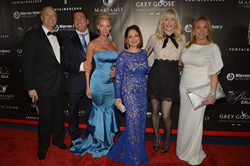 We are deeply passionate about helping men look professional, so they land that big job or opportunity. Giving back time or product are measures of equal importance.
Miami, FL (PRWEB) December 15, 2014
Menaji Skincare, luxury grooming products for men, has launched its new campaign to support organizations who help identify and provide resources for at-risk youth.
The decision to participate in selected events around the United States throughout the year came about the founder, Michele Probst's long-time experience in working with celebrities who came from all walks of life.
"My entire career as a professional celebrity make-up artist led to my developing this special brand of men's skin care back when there wasn't anything available. I've worked with thousands of men and heard all their stories: the breaks they had; the people who helped them along the way. This is what Menaji is: We are deeply passionate about helping men look professional and well-groomed, so they land that big job or opportunity. To us, giving back time or product are measures of equal importance. So by partnering with amazing non-profits, we are working to help solve some of the social issues affecting at-risk young men, such as inadequate academic support," said Michele Probst, President and Founder of Menaji Skincare.
Probst, who is from Nashville, TN, selected The Blacks Annual Gala this quarter because the line is carried at the Nordstrom at the Aventura Mall in Miami, FL, where the brand launched earlier this year. Lea Black, founder of the Gala, is a Bravo-lebrity Reality TV star of The Real Housewives of Miami and also founded the Consequences Charity, a 501c3 non-profit which supports dynamic curriculum educational resources and programs, workforce preparation, vocational training, workshops, after school activities, and camps for at-risk youth. One of the organizations that The Blacks Annual Gala supports is Breakthrough Miami, which provides an academic enrichment program that uses a student-teaching-students model to ensure that motivated, under-resourced middle-school students have access to excellent high-school opportunities, graduate from high school on time, and attend college.
Gala attendees included Miami Royalty Gloria Estefan, Insurance Czar Steven Mariano, Rock Star Courtney Love and Queen of Soul Aretha Franklin.
Although 16 million American children face the extra challenges of poverty, an increasing body of evidence shows they can achieve at the highest levels when given educational resources and mentoring support.
Menaji Skincare Chief Operating Officer Pamela Viglielmo explained that the campaign is also a win-win for the company as it creates a positive work environment as the company engages in philanthropic activities.
About Menaji
Menaji Skincare, a category leader in the "booming men's grooming" segment of the global beauty industry, was founded in 2000 by Nashville-based celebrity make-up artist Michele Probst. Sold in the USA and overseas in more than 20 countries, the Menaji product line addresses men's grooming needs with healthy skincare and undetectable skin-tone true cosmetics.