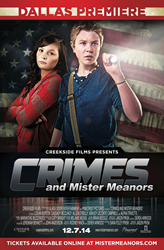 (PRWEB) December 05, 2014
Family adventure movie "Crimes and Mister Meanors" will have it's second premiere in Dallas this coming Sunday, Dec. 7, at 2 p.m., at the Studio Movie Grill on Spring Valley. The Dallas community and members of the AMTC family are invited to attend the premiere. Tickets are $10 and available online at http://www.mistermeanors.com. The film premiered in Atlanta on September 27 with approximately 700 in attendance.
"Crimes and Mister Meanors" was written and directed by AMTC SHINE VIP Jason Prisk of Glassworks Media and produced by Creekside Films. It stars Winter SHINE 2012 graduate Logan Burton, age 14, who plays the lead role of Jake Harvard. Logan's Father Luke Burton is also a featured actor in the film, playing the role of a reporter.
The film centers around the life of Jake Harvard: a teenager who goes to stay with his Uncle Benny, a detective, in suburban Washington D.C. Jake and his friend Kat decide to try their hand at the case of woman whose husband has gone missing. The two quickly find themselves in the middle of a political conspiracy that has claimed the lives of several scientists and now threatens theirs as well. This film "interweaves lessons about the founding of America and her dependence upon God."
Logan is from a family of six, all of whom are successful actors. At age 12, Logan attended SHINE Winter 2012 with his three siblings, Faith Anna (now 12), Beth (10) and Tag (7). His parents, Luke and Shannon Burton also showcased their talents at the conference. Through SHINE, Logan met Jason Prisk, the writer of the film. "It was so cool that I met Mr. Prisk at SHINE in 2012, and that he remembered me and reached out to me over a year later to audition for this film. He is such a talented director and wrote an amazing script. I am thankful to AMTC for teaching me how to act well and SHINE my light for Christ," Logan says.
"Crimes and Mister Meanors" was filmed in both Washington DC and the Atlanta, GA area in the fall of 2013. Along with Logan Burton, the film stars Cassady McClincy, Allen O'Reilly and Alpha Trivetts. Logan speaks about his time on set, "I had a lot of fun filming this movie! The script was really awesome to act out."
For more information about Logan Burton and "Crimes and Mister Meanors," please visit http://www.mistermeanors.com or go to http://www.creeksidefilms.com. To read about AMTC or to audition for the international SHINE Conference, visit http://www.amtcworld.org.