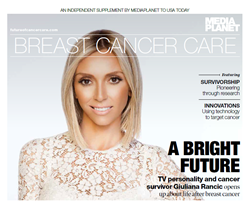 (PRWEB) December 05, 2014
With such staggering statistics, it remains vital to detect the disease in its early stages, which has shown to be best way to survive. Mediaplanet today announces distribution of its first cross-platform edition of "Breast Cancer Care," a campaign that seeks to not only raise awareness but allow our readers to create a plan of action to see their doctors and take the proper screening, diagnostic, testing precautions and treatments to prevent or make living with breast cancer more manageable. The print component of "Breast Cancer Care" is distributed within this weekend's edition of USA Today in New York, Los Angeles, Chicago, Washington DC/Baltimore, Seattle, Minnesota with a circulation of approximately 450,000 copies and an estimated readership of 1.3 million. The digital component is distributed nationally through a vast social media strategy and across a network of top news sites and partner outlets. To explore the digital version of the campaign, click here.
Giuliana Rancic, TV personality and advocate, graces the cover of the print publication. Through an exclusive interview on the interior, the star opens up about life after her breast cancer. "Throughout my battle with breast cancer, I learned how strong I really am," she shares. "I learned how truly powerful a positive attitude can be and I also learned that it's okay to go through all of the emotions that come with being diagnosed with cancer".
This edition of "Breast Cancer Care" was made possible with the support of Sphingotec GmbH, which aims to develop diagnostic methods for prediction, prevention, intervention strategies and early treatment of diseases in the fields of cancer, cardiovascular diseases and kidney function. In order to realize this mission we provide biomarkers indicating susceptibility for a specific disease, which will enable monitoring of prevention and intervention strategies. To read more, be sure to pick up a copy of USA Today in one of the distributed markets.
About Mediaplanet
Mediaplanet is the leading independent publisher of content-marketing campaigns covering a variety of topics and industries. We turn consumer interest into action by providing readers with motivational editorial, pairing it with relevant advertisers, and distributing it within top newspapers and online platforms around the world.