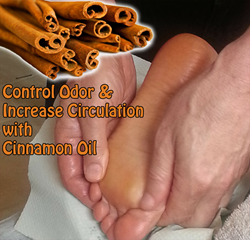 South San Francisco, CA (PRWEB) December 06, 2014
San Francisco-based body care company Zion Health has announced that Whole Foods Market in Santa Rosa will now be carrying a new circulation-boosting natural foot care product: Feet Treat Xtreme. This natural foot cream is formulated to improve blood circulation, soften calluses and control foot odor. Feet Treat Xtreme contains a high concentration of Cinnamon oil well known for its natural ability to enhance circulation. Feet Treat Xtreme may now be purchased at Whole Foods Market Santa Rosa located in the Coddingtown Mall and on 1181 Yulupa Ave.
Cinnamon has recently become a popular supplement as its many potential medical benefits become better known. The spicy bark is known to be an effective blood thinner, which improve blood circulation circulation and fights painful inflammation and swelling. A 2012 study at the University of Toronto found that using cinnamon could help reduce blood pressure over the short and long term, granting relief from tired feet.
Studies have shown healthy circulation reduces feelings of fatigue. The Korean Academy of Nursing research published in 2009 by NICH.gov concluded circulation enhancing foot reflexology techniques reduced stress and improved blood circulation.
Cinnamon is also a natural ally in the fight against athlete's foot. A Chinese study in 2012 revealed that cinnamon was a safe and effective antifungal drug, treating patients suffering from a candida infection with sixteen different essential oils. Cinnamon oil was the cream of the crop; it was the most active antifungal oil in the study and controlled most infections within 14 days of the test.
As a leading high-end grocery chain, Whole Foods has strict standards for their personal care products, taking the initiative to provide customers with only the safest and highest quality goods. The Santa Rosa store in particular is also devoted to being a force for good in their community, and this year provided a Local Producers Grant to a local family farm to help them expand their environmentally responsible ranch.
Zion Health's Feet Treat Xtreme is now available at Whole Foods Market in Santa Rosa and at health food markets and co-ops throughout the United States and Canada. Zion provides its consumers with pure skin and body care products that are vegan, free of parabens, and formulated using certified organic ingredients whenever possible.