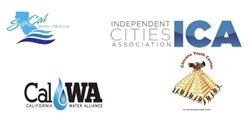 Congress needs to act on this bipartisan measure before 2015 so we can start capturing current rainfall
LOS ANGELES, CA (PRWEB) December 04, 2014
A broad-based statewide coalition of businesses, urban and rural residents, farmers, water districts and municipalities has come together to urge Congress to pass emergency legislation introduced in Congress this week to, according to coalition officials.
H.R. 5781 – the Emergency California Drought Relief Act of 2014 – seeks to offer a temporary solution providing operational flexibility for the state's two main water systems in an effort to reduce human suffering caused by water shortages and provide water supplies statewide as California heads into a fourth consecutive year of extreme drought.
"As water is being shut off to Southern California, we're preparing for mandatory rationing and increased water, power, and food prices while other parts of the state are like Third-World countries as people don't even have water in their own homes," said Luis Alvarado, executive director for the Southern California Water Alliance. "The time for talking and stalling is over – Congress needs to act on this bipartisan measure before 2015 so we can start capturing current rainfall and making plans to ensure the publics health and safety."
In addition to the Southern California Water Alliance, H.R. 5781 is supported by many other groups, including the Independent Cities Association of Los Angeles, the California Water Alliance, and Chicano Youth Center.
The coalition is promoting the California Drought Relief Act of 2014 because:

It offers concrete relief to limit human suffering and impact on people and businesses. It provides flexibility to manage California's water sensibly and capture water from current storms.
It protects people and the environment. Most notably it does not alter the Endangered Species Act or take away discretion of federal environmental protection agencies to protect critical habitat, species, or water quality. It also supplies water for farm-created wildlife habitat.
It is bi-partisan. The California Drought Relief Act of 2014 is based on a bill passed by unanimous consent in the Senate, modified only by language agreed upon during negotiations between Senator Diane Feinstein and Representatives from nearly every region of California.
"This measure is exactly what California needs and wants right now," said Aubrey Bettencourt, executive director for the California Water Alliance. "It is a sensible approach that offers temporary relief while we develop long range, permanent solutions."
H.R. 5781 also will help combat the loss of tens of thousands of jobs.
"The Latino community has been especially devastated by our drought and misguided water policies," said Javier Guzman director of the Chicano Youth Center of Fresno. "Congress needs to act to protect families reliant on water for their incomes. H.R. 5781 would be the best Christmas present they could get this year."
The Emergency Drought Relief Act of 2014 provides relief and protection for communities, farms, and the environment statewide.
"Californians have done their part in conserving and planning for the future with the passage of the water bond. Now is the time for Congress to contribute to the solution," said Mario Guerra of the Independent Cities Association (ICA), representing 7 million residents in Los Angeles County. "This emergency legislation will provide much needed temporary flexibility for drought relief in Southern California."
About the California Water Alliance - The California Water Alliance is statewide not-for-profit advocacy and educational organization dedicated to raising awareness about the essential nature of water for all Californians and promoting long-term, sustainable solutions that meet the needs of families, cities, businesses, farmers and the environment. To learn more, please visit http://www.californiawateralliance.org
About the Southern California Water Alliance – The Alliance is comprised of Southern California businesses, NGOs and municipalities representing more than seven million residents in the Los Angeles region. The Alliance speaks for urban water users, especially those without a political voice – low-income families, minorities, small businesses and urban voters who are bound to suffer the most from a water shortage. While we value the need to protect the environment, we believe that current policies are unnecessarily harming our communities and millions of Southern California residents with questionable benefit to the environment.
About the Independent Cities Association - ICA is a 501 (c)(3) nonprofit, public benefit corporation created in 1960. It is made up of forty-eight member cities in the Southern California area. The organization focuses on education, legislative advocacy, intergovernmental relationships and other major issues that transcend the boundaries of its member cities.
About the Chicano Youth Center - CYC provides various recreational, cultural and sports activities on a daily basis with special community events.