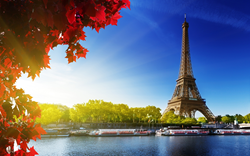 France.com is not just a great domain name; it's a global brand, making it a truly exceptional asset.
Boston, MA (PRWEB) December 16, 2014
Igloo.com, a leading broker of premium domain names and websites, has been engaged to broker the sale of one of the world's most valuable domain names, France.com. This top ranking domain name is highly searchable, easy to remember and provides an exciting opportunity for a savvy investor or existing business to continue to grow an already thriving business either within the travel industry or well beyond.
On the travel front, The French Ministry of Foreign Affairs and International Development states that, "France is the world's top tourist destination, with 83 million foreign tourists. So it remains the global leader, with the dynamic tourism sector boasting a surplus and rapidly transforming under the combined effect of a new, emerging clientele and a broader range of things on offer to international tourists." Additionally, it was announced this year that France will kick off UEFA EURO 2016 (one of the most prestigious soccer tournaments in the world) at the Stade de France, the venue which will also host the final, creating added opportunity and potential for the France.com domain name.
According to the World Tourism and Travel Council (WTTC), tourism will reach a global value of US $10.8 trillion by 2018. Keeping in mind that the fast-growing online travel sector already represents 38% of the overall travel market, geo-specific domains like France.com will only appreciate in value affording built-in asset protection on the buyer's upfront investment. According to the WTTC, Travel & Tourism is growing faster than any other sector, already accounting for 9.5% of global gross domestic product (GDP) and 266 million jobs. Over the next 10 years Travel & Tourism's global impact on GDP is set to rise by 4% each year. Aside from travel, France elicits feelings of romanticism, represents high fashion and is world-renowned for it's fine food, wine and cheeses.
While events like The Cannes Film Festival and The Tour de France draw millions and destinations like Paris, The French Riviera and Provence make France synonymous with travel. A company in the beverage or fashion industry or almost any luxury market could truly capitalize on this globally recognized name as their next brand! It is interesting to note that France actually surpassed both Spain and Italy to reclaim the title of biggest wine producer last year and a wine can only be labeled as "champagne" if it is made in the Champagne region of France.
Europe's leading drink trade publication, the drinks business, recently reported that a limited edition bottle of Goût de Diamants' (the champagne brand aimed at the hip hop community to rival rapper Jay-Z's favourite fizz, Armand de Brignac) carried a value of over $1.8 Million making it the most expensive single bottle of Champagne in the world! While the celebrities are busy drinking pricey champagne, French designers, including Chanel, Christian Dior, have been given credit for outfitting many of them on the Red Carpet bringing more positive attention to French culture and providing more possibilities for the France.com domain name. As long as French destinations like Côte d'Azur and Cap Ferrat continue being referred to as the "Playground of the rich and famous" and the likes of Brad Pitt and Angelina Jolie continue to choose to wed in France, France will remain on the forefront of social media headlines and people's minds.
With a domain name like France.com, the new owner will gain instant trust and credibility," said Tessa Holcomb, CEO of Igloo.com. "France.com is not just a great domain name; it's a global brand, making it a truly exceptional asset. It's not often that a domain name of this caliber becomes available for sale and we're looking forward to helping France.com reach its unique potential!
For additional information on France.com or to make a confidential offer, please contact Igloo.com at +1 508 689 9569 ext 601 or via email at partners(at)igloo(dot)com
About Igloo.com Limited
Igloo.com assists both businesses and domain owners in the overall planning and execution of their domain strategy. We specialize in domain acquisitions, branding needs, and sales for our clients and help companies stake their claim online, rebrand, or simply acquire descriptive domain names to help set them apart from their competition. With over $100 million in domain and website transactions behind us, Igloo's results oriented team is unparalleled in experience, knowledge and most importantly, results.