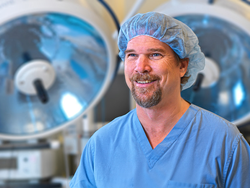 Patient safety is enhanced through built-in error checking to ensure a patient doesn't receive a medication they are allergic to.
Orange, Calif. (PRWEB) December 05, 2014
Physicians at Allied Anesthesia in Orange are campaigning for quicker adoption of electronic anesthesia records for the hospitals they service in a bid to improve efficiency and patient care and to reduce health care costs.
Dr. Manoj Kulkarni of Allied said most but not all of the hospital's Allied contracts have some form of electronic record keeping, which takes all the information from various monitors and compiles it with the physician's comments into one record that is accessible to multiple people.
"It's an area of competency and expertise that we have developed," Kulkarni said. "When you accumulate a large number of electronic records, you can easily evaluate the data and perform really strong studies to improve your practice."
Dr. John MacCarthy, president of Fullerton Anesthesia Associates, which was recently acquired by Allied Anesthesia, said Fullerton as been using electronic anesthesia records for nearly a decade.
"Electronic records make for much more accurate and faster charting so more of your attention can be directed towards taking care of the patient," said MacCarthy, a staunch advocate of electronic medical record keeping.
His group, which serves St. Jude Medical Center in Fullerton, has access to electronic anesthesia records everywhere that anesthesia is administered from MRI labs to GI labs.
From the physician's perspective, electronic records provide quicker, more accurate and complete patient information that multiple people can access simultaneously. They also provide better prescreening of patients for appropriateness of certain procedures based on past history.
Patient safety is enhanced through built-in error checking to ensure a patient doesn't receive a medication they are allergic to. Physicians have the ability to highlight patient conditions such as airway issues, renal failure or atrial fibrillation.
"All of that information can be put in a single area of the chart that everyone sees as soon as they open it," MacCarthy said.
From a business standpoint, electronic records allow for quicker and more accurate collections using fewer employees and since all of the government's Surgical Care Incentive Program mandates can be captured and collected electronically, hospitals can receive optimal payments.
"The government has such stringent reporting requirements, it would be almost impossible to get fully paid without an anesthesia information system," MacCarthy said. "You have a choice. Electronic records allow you to review a couple hundred thousand records in 15 minutes or you can hire a group of people to go through them one at a time."
---
About Allied Anesthesia: With over 100 highly qualified physician anesthesiologists on staff, Allied Anesthesia provides adult and pediatric anesthesia services to St. Joseph Hospital of Orange, CHOC Children's Hospital, St. Jude Medical Center in Fullerton, San Antonio Community Hospital in Upland, St. Mary's Hospital in Apple Valley and many other Southern California health care facilities.
In 2014, Allied Anesthesia joined with Fullerton Anesthesia Associates and Upland Anesthesia Medical Group to consolidate best practices in more than six hospitals and more than a dozen ambulatory surgery centers. The expanded medical practice is dedicated to offering the highest comprehensive quality of care and the most cost-effective procedures in all facilities they serve. All Allied physician anesthesiologists are board certified in Anesthesiology and they staff and manage the most efficient operating rooms in Southern California. Allied is a member of the California Society of Anesthesiologists, the American Society of Anesthesiologists, and the Anesthesia Quality Institute.