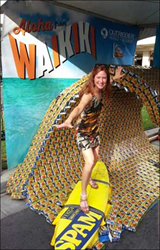 WAIKIKI, HONOLULU, HAWAII (PRWEB) December 09, 2014
Cities across the world all have their signature foods – pizza in New York, hot dogs in Chicago, and SPAM® in Hawaii. The islands' affinity for SPAM® has been a love affair years in the making, stemming back to World War II when the luncheon meat was served to GIs. Billions of cans later, Hawaii continues to celebrate the island staple at the annual Waikiki SPAM JAM®, with the 13th annual street festival set for May 2, 2015, along Kalakaua Avenue from 4 to 10 p.m.
"Since the very first Waikiki SPAM JAM® in 2002, the festival has become a must-attend event for both visitors and Hawaii residents," said Barbara Campbell, Waikiki SPAM JAM® co-founder and vice president of retail leasing and development at Outrigger Enterprises Group. "Whether this is your 13th time attending or your very first, there's always something new to try at Waikiki SPAM JAM®."
Approximately 25,000 festival goers will head to the Waikiki SPAM JAM® to enjoy a selection of delicious SPAM® dishes from some of Hawaii's favorite local restaurants. Admission to the event is free, and all proceeds generated benefit the Hawaii Foodbank. Festival-goers will be serenaded by Hawaii's best island music groups performing from two entertainment stages, and will have the opportunity to purchase Hawaiian arts and crafts, as well as SPAM® merchandise – from T-shirts, to shorts, to slippers. Here are five things even the biggest Spam fan might not know about Hawaii's most mouth-watering food festival.
1. How it All Started
The idea was cooked up by Bitsy Kelley, granddaughter of Outrigger founders Roy and Estelle Kelley, while serving up a plate of sizzling SPAM® to housekeepers during International Housekeepers Week back in 2000. Knowing that Hawaii was one of the largest consumers of SPAM® in the world, she was determined to make the Waikiki SPAM JAM® a reality. With the help of co-founder Barbara Campbell, also with Outrigger, they were able to establish a relationship with Hormel and bring the festival to life.
2. Eatin' for a Reason
Since the Waikiki SPAM JAM®'s inception in 2002, the festival has collected more than 25,000 pounds of SPAM® products and other canned food for the Hawaii Foodbank. The Hawaii Foodbank is the only agency in the state of Hawaii that collects, warehouses and distributes mass quantities of both perishable and non-perishable food to 250 member agencies as well as food banks on Oahu, Kauai, Maui and Hawaii Island.
3. The Meaning of SPAM®
To this day, the true definition of SPAM® remains a mystery. While most people assume it is short for "spiced ham," only a small circle of former Hormel Foods executives know the true meaning – and they're not telling.
4. Hawaii Cans the SPAM®-Eating Record
Hawaii residents buy nearly seven million cans of SPAM® each year, making it the state that consumes more of the tasty luncheon meat than any other state in the country? That's nearly six cans of SPAM® per person, per year!
5. Score Free Accommodation Upgrades
As part of the Waikiki SPAM JAM® Festival, Outrigger Resorts and OHANA Hotels in Waikiki offer guests checking in for the weekend a free one-category upgrade, based on availability, with the donation of a can of SPAM® product, which is then donated to the Hawaii Foodbank. For reservations, visit http://www.outrigger.com, or call 1-800-688-7444 and ask for the best available rate. This offer is subject to change and availability. Some restrictions apply.
For more information about the Waikiki SPAM JAM® Festival visit http://www.spamjamhawaii.com.

About Outrigger Enterprises Group
Outrigger Enterprises Group is one of the largest and fastest growing privately held global hospitality companies in the Asia Pacific, Oceania and Indian Ocean regions. As part of its unique hospitality offering, the values-based company extends exceptional hospitality and authentic cultural experiences at each of its properties worldwide. Guided by more than 67 years of family leadership, Outrigger runs a highly successful, multi-branded portfolio of hotels, beachfront resorts, condominiums and vacation resort properties, including Outrigger® Resorts, Hawaii Vacation Condos by Outrigger®, OHANA® Hotels and Resorts, Embassy Suites®, Holiday Inn®, Best Western®, Wyndham Vacation Ownership® and Hilton Grand VacationsTM. Currently, Outrigger operates and/or has under development 45 properties with approximately 11,000 rooms located in Hawaii; Australia; Guam; Fiji; Thailand; Mauritius; Maldives; Vietnam; and Hainan Island, China. For online information, log on at http://www.outriggerenterprisesgroup.com and http://www.outrigger.com.
Join Outrigger's social network to Find Out. Find Outrigger! Follow @OutriggerResort on Twitter or become a fan on Facebook at http://www.facebook.com/OutriggerResorts. For ongoing news, visit http://news.outrigger.com.
###
Note: Outrigger Resorts is sensitive to and understands the importance of diacritical markings. In mediums where the reproduction of these markings is true (i.e., in print), diacritical markings will be used. If a communication crosses several mediums to include the Web, which does not always reproduce diacritical markings correctly, diacritical markings will not be used.