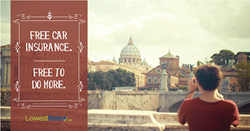 We will celebrate a great 2014 by giving one lucky customer free car insurance for a year.
Toronto, Canada (PRWEB) December 05, 2014
To celebrate the holiday season, LowestRates.ca today announced it is automatically entering those who purchase a car insurance policy through the site into a draw to win a year's worth of car insurance for their vehicle, up to a maximum amount of $2,000.
"Having generated hundreds of thousands of auto insurance quotes for Canadians, it's clear drivers from across the country love getting the best rates on car insurance at LowestRates.ca! We wanted to celebrate a great 2014 by giving one lucky customer free car insurance for a year," said Justin Thouin, CEO of LowestRates Inc.
All that Canadians have to do to enter the contest is fill out a short, 3 minute auto insurance form, compare quotes from up to 10 of Canada's leading car insurance companies and secure a car insurance policy procured through LowestRates.ca between now and January 31st. The contest winner will then be randomly selected on February 1st and announced on the LowestRates.ca blog, Facebook and Twitter.
To learn more about LowestRates.ca's Free Auto Insurance Contest, Canadians can read the complete terms and conditions here.
The auto insurance give-away is being launched in conjunction with another holiday initiative by LowestRates.ca, the #ensureameal social media campaign. Throughout the month of December, the company is donating $1 to the Yonge Street Mission, a well-known Toronto based charity, every time someone shares or retweets the hashtag #ensureameal, with the goal of providing 500 holiday meals to Torontonians in need.
"We want to give back to our customers, and we also want to give back to our community – it's an honour to support the Yonge Street Mission and help spread the word about all of the good work they do," said Thouin.
To learn more about the #ensureameal campaign, as well as the auto insurance give-away, Canadians can visit the official page.
About Lowest Rates Inc.
Based in Toronto, Canada, and founded in 2012, Lowest Rates Inc., through its websites LowestRates.ca and LowestRates.com, provides a free independent online service that helps consumers compare personal financial products offered by North America's leading financial institutions. Lowest Rates Inc. helps people save time and money by allowing them to compare offers on mortgages, insurance and credit cards all in one place. Lowest Rates Inc. strives to become North America's leader in providing consumers with the necessary tools and unbiased information they need to quickly and conveniently find the right personal financial products for their unique needs.
For more information visit LowestRates.ca and stay connected by following us on:
Twitter (@lowestrates_ca)
Facebook (http://www.facebook/lowestrates)
Contact Information
Partnerships, Marketing & Media Inquiries:

Cliff Ritter, Co-Founder & Chief Marketing Officer
cliff(at)lowestrates(dot)com
Corporate Affairs/Inquiries:

Justin Thouin, Co-Founder, President and CEO
justin(at)lowestrates(dot)com