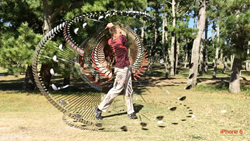 I hope our app will help users elevate their game to its maximum potential.
(PRWEB) December 11, 2014
SPLYZA announces today that their latest iOS app, Clipstro Golf, is now available on the Apple iTunes App Store. A golf swing and impact trajectory visualization tool, the app allows users to record their swing and instantly generate a swing trace video – without requiring a drawing feature or sensor.
Available for just $2.99, Clipstro Golf provides easy visualization of the swing arc, position, and ball trajectory, providing users with motion analysis tools to improve their technique. Shooting from behind lets users see whether their swing is a slice or a hook, as well as recognize fades and draws at a glance.
The app, which requires iOS 7.0 or greater, is compatible with iPhone, iPad, and iPod touch. Users can easily take a video – either with a tripod or by having a friend record by hand – from their device, and then use the app to generate a swing trace to save to their photo library, view, share with friends, or send.
These short swing trace videos can serve as a way to analyze and develop technique. "I hope our app will help users elevate their game to its maximum potential," says SPLYZA Inc. CEO Hiroyuki Doi.
Although Clipstro Golf is compatible with earlier iOS devices, it works best on the iPhone 5s or later, as well as iPad Air 2. These newer devices provide better trace results, as they have higher frame-per-second (fps) recording abilities, which better supports slow-motion recording. They also allow for faster conversion times and higher video resolution.
Conversion times range from 45-120 seconds, with newer and faster devices requiring less time to convert. Video resolution may vary depending on the memory capacity of the device. Resolution will be 1280X720 for devices with more than 1GB of RAM, while it will be 640X360 for those with less than 512MB of RAM.
Available internationally, support for Clipstro Golf is provided in English, German, French, Japanese, Italian, Spanish, Dutch, Russian, Portuguese, Korean, Simplified Chinese, and Traditional Chinese.
To learn more about Clipstro Golf, visit the product page at http://www.splyza.com/clipstro-golf/ or find it on the Apple iTunes App Store at https://itunes.apple.com/app/id935559685.
About SPLYZA Inc.
SPLYZA, established in 2011 in Shizuoka, Japan, is an image-processing, iOS Web application developer dedicated to making original, creative software. The company's mission is to create apps that will bring excitement to customers' lives. For more information, please visit http://www.splyza.com.
Media Contact: Hiroyuki Doi, +81 53-523-7719, info(at)splyza(dot)com