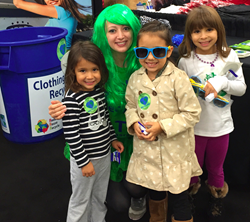 "The palettes of food donated from ATRS were a tremendous support to us here at the Family Violence Prevention Service," says Vanessa Rodriguez, Director of Volunteer Services for FVPS
San Antonio, TX (PRWEB) December 09, 2014
American Textile Recycling Service (ATRS) cleaned up the streets at the Humana Rock 'n' Roll San Antonio Marathon and 1/2 Marathon this past weekend as over 24,000 runners and their supporters gathered in Alamo City. ATRS staffers were on hand at the Start Line, decked out in the company's signature green fairy and elf attire to collect dropped warm-up gear and pick up other recyclable textiles along the course.
Approximately 1050 lbs. of discarded running gear, unused race swag and other textile material was collected from the Health & Fitness Expo and the race day course for reuse, redistribution and recycling. Every pound collected will directly benefit area charity Center on Independent Living.
Approximately 4 palettes of snacks and other perishables were collected by ATRS volunteers from the Finish Line and delivered immediately to The Family Violence Prevention Center which has served victims of domestic violence in San Antonio, TX for over 35 years. These items will directly benefit families transitioning to a life free of domestic violence.
"The palettes of food donated from ATRS were a tremendous support to us here at the Family Violence Prevention Service," says Vanessa Rodriguez, Director of Volunteer Services for FVPS, "A lot of people don't realize 2/3 of the victims of domestic violence are children, with the food from the race we are able to save our resources and provide them with snacks for during and after school, its is an immeasurable gift for us this holiday season."
Three official ATRS sponsored mascot runners participated in the Humana Rock 'n' Roll San Antonio Half Marathon to raise awareness for the importance of textile recycling at athletic events. All three completed the 13.1 mile race wearing ATRS Gear while stopping to pose with enthusiastic attendees along the way. These runners are a part of the initiative to raise awareness about the large amounts of textiles that can be diverted from municipal landfills in San Antonio, TX.
Now in it's third year, the ROCK RUN RECYCLE campaign sponsored by The Competitor Group and ATRS promotes fun, earth-friendly recycling practices at each race. Participants at the upcoming PF Chang Rock 'n' Roll Marathon and Health & Fitness Expo in Phoenix, Arizona on January 16-18 are challenged to bring a bag of unwanted running gear, shoes and other clothing for recycling to the ATRS booth at Expo or the Start Line on race day.
American Textile Recycling Service (ATRS) is the nation's fastest growing textile recycler and an official recycling partner of Rock 'n' Roll Marathon Series. Its socially responsible business model provides free textile recycling solutions for the public, job stimulation worldwide and much-needed funding for worthy local charities. Easy, convenient ATRS Recyclers are available throughout Texas, Colorado, Florida, Michigan, Tennessee, Atlanta, Oklahoma, Arizona, and Southern California. ATRS is committed to keeping textile waste from local landfills and promoting a greener tomorrow. For press inquires contact pr (at) atrsonline (dot)com.