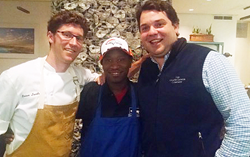 We are thrilled to partner with the John Besh Foundation to further the culinary passion and skills of those in the New Orleans community
Greenwood Village, Colorado (PRWEB) December 06, 2014
The John Besh Foundation selection committee chose Leon Thomas to receive the new Colorado Culinary Academy (CCA) scholarship. Leon's mentor will be Chef Brian Landry, executive chef of Borgne (a member of the John Besh Restaurant Group) in New Orleans. The CCA scholarship will provide Leon with the opportunity to gain professional training during the comprehensive 12-week program at CCA and receive the guidance and support of the CCA instructors and staff. Following graduation, Leon will return to New Orleans to work in a restaurant of his choice to continue his culinary career and give back to his community.
Donovan "Donnie" Davis, a student in the CCA inaugural class (Fall 2013), helped set the stage for this scholarship partnership. Donnie, now employed with the John Besh Restaurant Group, was the test student for a pilot project involving the two organizations.
"We are thrilled to partner with The John Besh Foundation to further the culinary passion and skills of those in the New Orleans community," said Chef Andy Floyd, director and co-founder of Colorado Culinary Academy. "Our professional culinary program will ensure that students will be well-trained in contemporary French and Italian techniques and world cuisines, and will be confident to work in today's professional kitchen."
This year, CCA further explored this special partnership through Eddie Elias (Fall 2014). Originally from Cuba, Eddie is a CCA alumnus who began working immediately after his graduation at the Domenica restaurant (part of the John Besh Restaurant Group). Located in The Roosevelt New Orleans, a Waldorf Astoria Hotel, Domenica is under the direction of Executive Chef Alon Shaya.
As one of the private schools overseen by Colorado Department of Higher Education's Division of Private Occupational Schools, Colorado Culinary Academy joins the International Culinary Center (ICC) as the newest culinary school partner for The John Besh Foundation.
About The John Besh Foundation
Established in 2011, The John Besh Foundation provides scholarships, grants and loans to individuals in the New Orleans community with the passion, creativity and knowledge to enact change in New Orleans and Louisiana. Chef John Besh created The John Besh Foundation in order to better serve his community by bringing a focus to his efforts in New Orleans. Through essential partnerships and generous donations, the foundation promotes the preservation of the culinary history and culture of New Orleans and Louisiana. For more information, please visit http://www.johnbeshfoundation.org.
About Colorado Culinary Academy
Colorado Culinary Academy is certified and regulated by the Colorado Department of Higher Education and approved by the Veterans Administration to train Veterans and their eligible dependents. Colorado Culinary Academy is endorsed as an ACF Quality Program by the American Culinary Federation Education Foundation (ACFEF).
Colorado Culinary Academy's accelerated curriculum is based on classic French technique and taught in a contemporary environment. In just three months, graduates are prepared to take the next step in their culinary career. For more information, please contact Paul Kelly at (303) 220-6996, or email at admissions@coloradoculinaryacademy.org.
Twitter: @CoCulinaryAcad
Facebook: http://www.facebook.com/ColoradoCulinaryAcademy