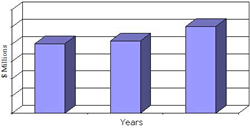 Global Market for Pediatric Medicines to Reach $100.7 Billion by 2019
Wellesley, Mass. (PRWEB) December 05, 2014
During the last decade, the pharmaceutical industry has made significant advances in the development of pediatric vaccines as well as medicines to treat central nervous system (CNS) disorders, inflammatory diseases, respiratory conditions and viral infections. The global pediatric market was valued at $80.7 billion in 2013. This is expected to reach nearly $83.6 billion by the end of 2014 and $100.7 billion by 2019.
The market's significant rise through 2019 can be attributed to the industry becoming more familiar with designing and implementing trials in the pediatric population. In addition, the focus on commercially viable targets of high unmet clinical needs such as diseases designated under the Orphan Drug Act (ODA), those for pediatric oncology and the treatment of metabolic disorders. Orphan drug diseases have also provided new opportunities for the industry to target pediatric drugs to treat childhood cancers, metabolic diseases and immune-related diseases.
In addition, the growing incidence of disease conditions such as obesity, diabetes and hypertension in children is contributing to the surge of this segment. The recognition of chronic conditions such as diabetes and hypertension, along with certain behavioral health conditions such as attention deficit hyperactivity disorder (ADHD), depression and anxiety coupled with the rising prevalence of childhood obesity among the pediatric population is aiding the rise in these segments at a brisk rate.
"The development of formulations for children has been, and still is, a major challenge that separates pediatric drug development from mainstream R&D," says BCC Research analyst Dr. Bianca Piachaud-Moustakis. "The significant biological, pharmacological and physiological changes that children experience from birth to adolescence must be considered when developing a pediatric formulation. Not surprisingly, each type of formulation poses difficulties depending on the age of the child."
Pediatric Medicines: Global Markets presents the changing environment in terms of new legislation and implementation of global pediatric plans. The report analyzes market trends and identifies key therapeutic and geographical challenges and rising opportunities in the developed and developing world. It includes reviews of market revenues from 2013 and forecasts market revenues through 2019.
Editors and reporters who wish to speak with the analyst should contact Steven Cumming at steven(dot)cumming(at)bccresearch(dot)com.
About BCC Research
BCC Research publishes market research reports that make organizations worldwide more profitable with intelligence that drives smart business decisions. These reports cover today's major industrial and technology sectors, including emerging markets. For more than 40 years, we have helped customers identify new market opportunities with accurate and reliable data and insight, including market sizing, forecasting, industry overviews, and identification of significant trends and key competitors. We partner with analysts who are experts in specific areas of industry and technology, providing unbiased measurements and assessments of global markets. Our clients include the top companies in industries around the world as well as universities, business schools, start-ups, consulting firms and investment companies. Visit our website at http://www.bccresearch.com. Contact us: (+1) 781-489-7301 (U.S. Eastern Time), or E-mail information(at)bccresearch(dot)com.
Data and analysis extracted from this press release must be accompanied by a statement identifying BCC Research LLC, 49-2 Walnut Park, Wellesley, MA 02481, Telephone: (+1) 781-489-7301; Email: editor(at)bccresearch(dot)com as the source and publisher. Thank you.