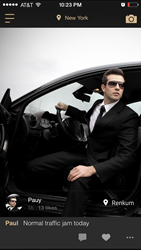 Los Angeles, California (PRWEB) December 09, 2014
Dating apps take the convenience of online dating to a whole new level. Nevertheless, with so many dating apps out there, it is difficult to know which ones are right for you. Users can send instant messages to each other, take dating quizzes, and even receive notifications when someone "favorites" them. However, that is just the beginning. As anyone who dates knows, meeting someone online and having a brief chat is just the beginning of the dating process.
LUXY, a top dating application, also built its dating application for users to connect with each other easily. It is a great mobile application by which anyone can connect with rich people. Users can easily meet millionaires, beauty queens, doctor, and members, including CEO, investors, entrepreneurs, lawyers, fitness model, Hollywood celebrities.
The app was designed to attract more millionaires to join the platform and connect with others on LUXY. This app gives users a platform, where they can reach or connect with rich people locally and internationally. The new income verification feature integrated in this mobile application has recently gone viral. The 'verify' feature was purposely included in the application for users to verify their financial status and find the match with real millionaire singles.
Some people stay on dating sites pretending to be millionaires, but with the introduction of the verify feature, LUXY users can really ascertain the real millionaires in their area and get to know them personally. LUXY helps users to know about real millionaires by their verified status and enables them to share their verified status on social media like Facebook, Twitter, etc.
LUXY not only provides users with an opportunity to connect, but also gives them card playing opportunities. Users can meet attractive and successful millionaires around the world. Users can connect by sending messages only when they like each other. This feature gives no room for undesirable contact. Therefore, you get to only like the verified millionaires and connect with them.
With LUXY, users can share their luxury villa, show their favorite cars, talk about their favorite brands, and more. Get a LUXY App and start sharing your exciting moments with the community! It is available on Google Play and the Apple store.