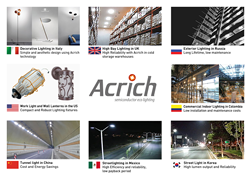 (PRWEB) December 08, 2014
Seoul Semiconductor (http://www.seoulsemicon.com), a global LED manufacturer, announced the adoption of the Acrich technology as the preferred lighting solution worldwide for Residential, Commercial, and Industrial applications. This technology has been optimized for a wide range of lighting applications.
An Italian lighting designer has employed Acrich for artistic decorative lighting fixtures. The Acrich modules provided maximum flexibility to create a compact and aesthetic luminaire. Also, in Colombia, Acrich was selected for high ceiling commercial lighting fixtures leading to energy efficient designs with high quality of light and reduced maintenance costs. In U.K., Acrich has been applied to light up cold storage units. In Russia Acrich has been adopted for outdoor lighting and in the US for work lights.
In China and other developing countries, the Acrich technology has been successfully employed in street lighting applications significantly improving the lifetime of the fixture. Also, with the improved efficiency, reduced maintenance costs, and dynamic dimming the payback period has been significantly reduced without compromising on reliability of the fixture. Also, the Acrich technology can account for fluctuations in supply voltage especially in outdoor lighting applications by providing a stable light output. In Korea, streetlights using Acrich are in the process of installation in more than 10 local governments.
Seoul Semiconductor Executive Vice President of Lighting sales, Jay Kim stated that, "The Acrich LED solution has provided innovative solutions worldwide to a wide range of applications in the commercial, residential and industrial lighting environments. In the future, Seoul Semiconductor will introduce more products to further enhance the adoption of the Acrich technology."
You can check more information from the website of Seoul Semiconductor.