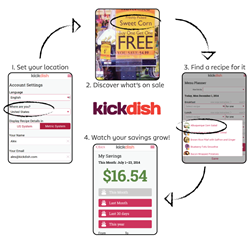 I have always been surprised by how cumbersome it is to plan meals ahead of time. No wonder people rather walk in to any supermarket without a plan, and be 'seduced' on the spot. -- Alex Greve
Zurich, Switzerland (PRWEB) December 08, 2014
KickDish, based in Zurich, Switzerland, is about to revolutionize the way consumers plan meals and grocery shop. For families who have varied taste meal planning can become not only expensive, but also feel like short-order cooking. KickDish's innovative app lets users indicate taste and diet preferences, and then suggests recipes with ingredients that are on special at their local grocery store (amongst others: Walmart, Kroger, Ralph's, Food 4 Less, Fred Meyer, QFC, Albertsons, SafeWay and Target).
Once a recipe is selected, KickDish will generate a shopping list that can be synced among family members or roommates. Available recipes are updated every month as fresh produce comes into season.
Alex Greve, founder and creator of KickDish, thought of the food-intelligent app after being diagnosed with his own food intolerances. He states that he has always been surprised by how cumbersome it is to plan meals ahead of time. No wonder people would rather walk in to any supermarket without a plan, and be 'seduced' on the spot. Impulse buys are not only bad for the waist-line, but also for one's wallet. Hence, Alex set out to create KickDish. Alex is convinced that more people would preplan their meals if they had a tool that was easy to use.
The Intelligence & Innovation of KickDish
One of the most exciting features of KickDish is the money saving aspect. Often times, fresh produce and meats that are on sale at grocery stores are only announced in weekly newspaper inserts. No coupon is generated for them. By using KickDish, the grocery bill is reduced since the grocery list generated contains items on sale.
In addition to saving consumers money, KickDish saves them time. KickDish acts as an all-in-one concierge and nutritionist. There is no more need to search for recipes and then try to coordinate them with weekly sales. Once dietary preferences and needs are defined within the app, all of the coordinating is done for the consumer. Consumers also save time by reducing trips to the grocery store for the few items typically forgotten.
Consumers with Dietary Restrictions
Lastly, KickDish has thousands of recipes for the growing number of people who are faced with celiac, diabetes, or another medical condition. The user-friendly interface allows users to identify their, or a family members, dietary needs. The recipes pulled and highlighted will have all allergen-safe ingredients.
Get Involved
The company is launching a KickStarter campaign. The additional funds raised will be used to expand the app's already exceptional offerings. On offer to those who want to back KickDish are a variety of "early bird and holiday specials" that range from single-user packages, to various friends and family packages. A customizable Coach Pack is also available and is aimed for life style coaches who want to offer the KickDish service to their clientèle, with their very own look & feel.
For more information please visit http://kck.st/1ywQCpj. This link redirects to the KickStarter project page.
Contact Details:
Alex Greve
+41 76 2154999,
alex(at)kickdish(dot)com