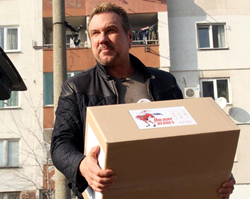 "A couple of years ago, the Holiday Heroes charity campaign was started by Michael Straumietis, better known as "Big Mike", the founder and CEO of Advanced Nutrients, with a simple goal: give a wonderful holiday to families struggling to fight poverty."
(PRWEB) December 08, 2014
Holiday Heroes charity has won two BG Site awards this year. For the past 14 years, the BG Site competition has set the standard for web presence in Bulgaria. Some of the biggest names in international communications, such as M3, and ABC, have been so impressed that they've acted as the main sponsors of the event.
The competition is designed to find the very best in content, design, functionality, technical performance, and originality. This way, the utmost excellence in online communication can be rewarded and analyzed.
Many of the most competitive Bulgarian professionals in IT, marketing, design and communication are present and involved, to discuss what is working and why. And so far, as a charity, the Holiday Heroes campaign has won two awards in 2014, both for "Full Online Presence" and "Cause. Event. Community."
A couple of years ago, the charity was started by an American entrepreneur named Michael Straumietis, better known as "Big Mike", the founder and CEO of Advanced Nutrients. The charity was named Holiday Heroes, and the goal was simple: give a wonderful holiday to families struggling to fight poverty.
In the last couple of years, Holiday Heroes have brought food and toys to over 12,000 families, and anticipate record numbers for 2014. Hundreds of volunteers and dozens of celebrities have joined the cause.
The charity has been so successful that even big international companies like Sony, Nestle, Unilever Pepsi, Coke, Fantastico, Best Foods and Chinese automotive manufacturer Great Wall have signed on. Bulgarian celebrities have also taken notice, bringing that special holiday magic only familiar celebrities can bring to families in need.
If you're looking for a charity to donate to this holiday season, and believe everyone should be able to celebrate, then visit the Holiday Heroes website. The best part about this charity is you know where you money is going, and can see for yourself how much of a difference is made for the Bulgarian families you're donating to, because the event is documented online every year. See the difference for yourself by visiting the award winning site below:
Holiday Heroes website:
English: http://holidayheroes.bg/en/
Bulgarian: http://holidayheroes.bg
#########
Contact information:
Milla Koleva
+359 888 825 093
info(At)holidayheroes(Dot)bg
pr(At)advancednutrients(Dot)com
For more information on Advanced Nutrients:
http://www.advancednutrients.com