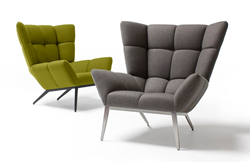 It feels even more comfortable than it looks.
Los Angeles, CA (PRWEB) December 09, 2014
At the IAC in New York on December 4, Jeff Vioski won Interior Design Magazine's 2014 Best of Year Award for his Tuulla Chair. In the ten years since Jeff started his eponymous modern furniture company in Los Angeles, he has been a finalist of Interior Design Magazine's award 5 times, winning twice.
Deemed the wing chair for a new generation, the Tuulla Chair made its debut in last March at BITAC© Luxury 2014. It is perfectly proportioned and extremely well-balanced, reflecting Vioski's background in architecture. As one of Vioski's most intricate designs, it takes nine hours to upholster a Tuulla Chair. The fully-tufted form looks very comfortable, and according to Vioski, "It feels even more comfortable than it looks." The sexy tilt of Tuulla, which comes from the slightly shorter back legs, makes it a perfect lounge with excellent lumbar support. The base is laser-cut, 1/2-inch thick, solid metal and comes in matte black, matte bronze and satin chrome. The Tuulla has been one of Vioski's top designs this year for homes and offices.
In 2006, Jeff won Interior Design Magazine's Best of Year for his Palms II Chair. He was a finalist twice in 2007 for his Traci Chair and Mitosi Sectional, and in 2008 for the Louis Chair.
VIOSKI is an American made collection of modern furniture by Los Angeles-based architect and designer Jeff Vioski. The collection joins modern designs with the finest materials, rich textures and innovative flexibility of use. Vioski products are manufactured in California using a sustainability initiative. This year marks the 10th anniversary of the Los Angeles Showroom, and there are eleven authorized Vioski Showrooms in the US and Australia.