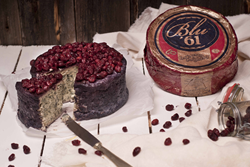 ITALY (PRWEB) December 08, 2014
The recent World Cheese Awards in London brought great success for Italian artisanal cheeses. Among the over 3,000 producers who submitted their products to this, the largest cheese competition in the world, La Casearia Carpenedo stands out. These Italian artisans of excellent cheeses, based in the Veneto, took home to the North of Italy three silver medals and one bronze.
The top judges for the World Cheese Awards awarded the silver medals to Toma Blu alle Erbe, a semi-hard blue cheese, aged in barrels with hay and herbs, Gran Monteo, a soft cow's milk cheese and Baronerosso di Capra, a semi-hard goat cheese, slightly crumbly, aged in the skins and stems of pressed Barbera d'Asti DOCG grapes.
The bronze goes to Blu'61 (SRP $70), a soft cow's milk blue cheese, aged over three months using the local sweet wine, Passito di Raboso, and wine-soaked cranberries.
Blu'61, created in 2011 to celebrate 50 years of marriage between Antonio Carpenedo and his wife Giuseppina, is a memorable and excellent cheese. In 2012 it was selected by Scott Winston, the purchasing manager for Harrod's, where it is now for sale alongside the most excellent products of the most famous London food hall.
Since 1976 La Casearia Carpenedo has combined passion and creativity to create excellent cheeses, with original tastes, that are appreciated all over the world. Hay, grapes, herbs and spices are some of the ingredients that the Carpenedo family still uses to create original products of unique taste and long refined finish.
These and other delicious Casearia Carpenedo cheeses are available for purchase at fine online retailers such as http://www.igourmet.com/ and at "All Foods Inc", at "Zabar's" Broadway NY, at "Murray's" NY, "Di Palo's" NY, "Zingerman's" Detrtoit and at "Central Market" Texas.