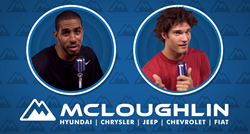 Little do the pedestrians know, the Blazer stars, Aldridge and Lopez, were lurking in the shadows to charge and surprise them...
Portland, OR (PRWEB) December 06, 2014
McLoughlin Chrysler Jeep of Portland, Oregon just released an extended YouTube version of their recent blooper commercial. The blooper outtake is in response to commercials first aired this time last year featuring the less than melodic tones of Portland Trail Blazer stars LaMarcus Aldridge and Robin Lopez singing the McLoughlin dealer name.
Several of the original commercials for new car dealerships McLoughlin Auto Mall group featuring brands such as Hyundai, Chevrolet, Chrysler, Jeep, and FIAT had Aldridge and Lopez singing the catchy "OoOooh.. McLoughlin" jingle which is intended to brand the dealerships' new names in the minds of Oregonians.
However, the off key, but joyous and good-natured jingle coupled with what their ad agency admits were a few too many commercials, plus the harsh weather at the time keeping a lot of people in inside watching television, turned out to be more than some could handle.
Knowing that a little humble pie is oft times the best medicine, the McLoughlin Chrysler Jeep dealer's ad agency responded with yet another video. The new extended YouTube blooper features even more comments (both public and players) than the latest TV commercials. The video begins with random passers by being ask their thoughts on the original McLoughlin commercials.
All the interviewees had similar responses, saying "the singing is awful" and calling the commercial "extremely annoying." Little do the pedestrians know, the Blazer stars, Aldridge and Lopez, were lurking in the shadows to charge and surprise them during their harsh critiques.
"Lopez and Aldridge were great sports," (no pun intended) says McLoughlin Chrysler Jeep's General Manager Joe Khorasani. "These kind gentlemen were able to show their playful side, not normally seen on the basketball court and literally had as much fun doing it as it looked."
The lesson to take away here may be the next time you are out and about, humming that jingle you loathe, make sure the talented Aldridge and Lopez are not in the immediate area.
The McLoughlin Auto Mall dealerships are located in the Portland suburb of Milwaukee, Oregon on McLoughlin Boulevard from 16700 block to 16900 block of Southeast McLoughlin Boulevard. Their dealerships are McLoughlin Hyundai, McLoughlin Chevrolet, McLoughlin Chrysler Jeep, and McLoughlin FIAT. The McLouglin dealerships all feature a "Lifetime Guarantee" for their vehicles.