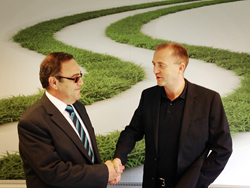 Richard said, "I am absolutely delighted to be associated with the Meli Group. I have no doubt that the Green Motion brand for Malta will be in safe hands."
Malta (PRWEB UK) 7 December 2014
The founder and chairman of Green Motion, Richard Lowden, announced today that following the termination of its franchised operator (Ray Bezzina and Christian Borg - trading as Princess Garages / Goldcar) in Malta in July 2014, that Green Motion has finally agreed terms for the reopening of their operation on the beautiful Island.
Richard said, "It was with great disappointment and a heavy heart that we were forced to terminate one of our international franchisees. Despite our best efforts, the behaviour of the former franchisees and their attitude and treatment of Green Motion's customers became intolerable and was not representative of the tremendous service and value enjoyed by many Green Motion customers at our other 13 worldwide destinations."
Richard went on to say, "Following on from the termination of Ray Bezzina and Christian Borg (Princess Garages), we worked hard to re-house all those customers who had trusted their car rental booking with the Green Motion brand. This was very difficult as we were forced to terminate the franchise at the start of the peak season in order to protect our customers."
Richard continued, "It was through the rehousing process that we made contact with a local Maltese car hire operation called Meli Group who worked alongside Green Motion to rehouse literally hundreds of bookings to ensure that our customers and those of our supplied partners got what they ordered and paid for."
The owners of the Meli Group felt that they could do a fantastic job reinstating the goodwill and reputation of the Green Motion car hire brand in Malta and as such, Richard and the Meli Group agreed to acquire the master country franchise for Malta.
Richard said, "I am absolutely delighted to be associated with the Meli Group, they are a family owned business who genuinely care about delivering the highest levels of customer service along with honestly and integrity. I have no doubt that the Green Motion brand for Malta will be in safe hands."
Meli Group said, "It was difficult to see the Green Motion brand being damaged under the ownership and control of the former franchisee as it is not reflective of the quality of service that Green Motion provides around the world. It our family's privilege to be associated with Green Motion and bring the brand back to life in our country."
Richard went on to say that "over the years we have had some very satisfied customers in Malta; however, through the unacceptable actions of the former franchisee, we have also had some very unhappy customers as well. Our job at Green Motion International head office in conjunction with Meli Group and their team will be to put Green Motion Malta back on the map and as such, I invite both old and new customers to put us to the customer service challenge."
We genuinely welcome any reviews on your trip with Green Motion and any advice on how we can better serve our customers.
Green Motion Malta is conveniently located on level 1 in Malta's International Airport arrival hall. Car hire customers at Malta Airport can enjoy a true VIP service and relax in the spacious office / lounge facility while their rental vehicle is prepared.
For further information on booking car hire in Malta with Green Motion, please visit http://www.greenmotion.com.