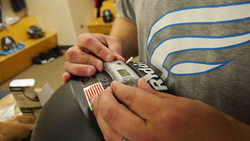 Brain Sentry is a market leader in monitoring head impacts in contact sports for concussion management.
Bethesda, MD (PRWEB) December 05, 2014
Bethesda, MD-based Brain Sentry, Inc. signed an exclusive license for US Patent No. 5,978,972. This patent represents a pivotal enabling concept for wearable sensors in that it describes the use of accelerometers attached to a body part to measure acceleration during physical activity.
Over the past few years the use of accelerometer technology that enables tracking of body parts has powered a wide variety of exciting products, including:
– Fitness wrist bands
– Head impact sensors
– Military blast sensors
– Video game controllers
– Smart watches
– Smart shoes
– Smart fitness chest straps
– Virtual reality goggles
– Augmented reality glasses
"The combination of this key enabling technology developed at The Johns Hopkins University and the recent availability of low cost sensors, including microelectromechanical (MEMS) triaxial accelerometers, has formed the basis for dozens of innovative consumer, military and medical products," said Greg Merril, co-founder and CEO, Brain Sentry. "We are pleased to license this groundbreaking technology, which supports our strategy of moving from our current place as a leading helmet sensor company to achieving our ultimate goal of becoming the leading innovator in the use of wearable sensors."
Brain Sentry is a market leader in monitoring head impacts in contact sports for concussion management. Brain Sentry's sensors are currently used by thousands of football, lacrosse and hockey players and are required equipment for all athletes in numerous organizations, including the Arena Football League (AFL).
The Brain Sentry helmet-mounted sensors alert when an athlete suffers an unusually rapid and potentially dangerous acceleration of the head, indicating that the player should be assessed for possible injury. They also track subconcussive hits, helping coaches identify players with tackling and blocking techniques that include excessive head/helmet contact.
Brain Sentry's sensors estimate direction, peak acceleration, and duration of impacts as experienced at the center (CG) of the head. Brain Sentry's sensor technology includes a microelectromechanical, triaxial accelerometer capable of measuring acceleration from any direction. Helmets provide varying levels of impact protection depending on the direction of the hit. Brain Sentry's proprietary, DAS™ technology (Directionally Adaptive Sensing) provides a consistent alert level – independent of hit direction or helmet type.
The compact sensors weigh only one ounce, are waterproof and the batteries last all year without charging, meaning no maintenance by the athletes or staff. Brain Sentry sensors are made in the U.S. and easily affix to the outside of the helmet (on the back). The product senses head impact and acceleration and serves as another set of eyes helping coaches and trainers identify players who need to be assessed for concussions.
About Brain Sentry: Brain Sentry has a simple goal: to stop lives from being devastated by sports-related brain injuries. Named a Top Startup of the Year in 2013 by The Wall Street Journal, Brain Sentry is privately held and headquartered in Bethesda, MD. The company was founded by a team of award-winning health-related product developers who have continued to win accolades; the Brain Sentry Impact Sensor was named Best Tech Product of the Year by Baltimore Innovation Week. Featured on The Today Show and Good Morning America, Brain Sentry is the official sensor provider for the Arena Football League. Brain Sentry's initial focus is to provide sensors for the most popular helmeted contact sports: football, lacrosse, and hockey. Brain Sentry is also developing sensors for biking, alpine, and other helmeted activities. Learn more at http://www.brainsentry.com.