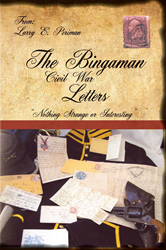 Dix, IL (PRWEB) December 05, 2014
This book has been underway since the discovery of long ago hidden away civil war letters from Adam Lewis Bingaman and his brother David Samuel Bingaman. Adam is Mr. Periman's great-great grandfather who fought for the union as a member of the Illinois 6th Cavalry.
Over eighty letters were carefully preserved in their original stamped envelopes. The family members who received them and preserved them were long since deceased and the existence of the letters was unknown until a blue bandanna about the size of a basketball was untied and they came tumbling out.
As time permitted the letters were typed for easier reading and the history of members of the immediate family was researched. Adam's mother, Elizabeth, came to Illinois in 1830. Just two years after their arrival her husband joined others, including Abraham Lincoln, in driving Indian Chief Black Hawk from Illinois.
The book provides insight into early southern Illinois pioneer life. It gives considerable attention to the issues leading up to the civil war including correspondence between North and South combatants just prior to the outbreak of the war.
First-hand accounts of the battle of Hurricane Creek in Mississippi and the battle in Nashville, Tennessee are provided in the letters.
Most of the letters describe camp-life in and around Memphis, Tennessee including a military execution which both Adam and David mention. All testimony regarding the incidents leading to this execution obtained from the National Archives is presented.
It is expected that readers will find the book enjoyable and informative.
Books are available for purchase in softcover or hardcover from Mira Publishing at http://www.mirabooksmart.com/The-Bingaman-Civil-War-Letters-softcover_p_585.html and http://www.mirabooksmart.com/The-Bingaman-Civil-War-Letters-hardcover_p_586.html. http://www.mirabooksmart.com/The-Bingaman-Civil-War-Letters-hardcover_p_586.html
Books are also available from Larry Periman.
Phone: (618) 315-2318
E-mail: larryperiman(at)wildblue(dot)net