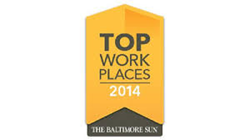 KatzAbosch has been named for the past three years consecutively.
(PRWEB) December 09, 2014
The Baltimore Sun has just released The Baltimore Sun's top work places of 2014, a list of 100 companies chosen from a metro-area employee survey by WorkplaceDynamics LLP.
Top of the list in the Baltimore region: KatzAbosch, a financial services and insurance company headquartered in Timonium. It's the firm's fourth year in a row at the head of the listings, an honor KatzAbosch attributes to professional perks it offers employees, including:

A great work/life balance.
A high-tech education facility with training that exceeds professional requirements.
Every employee has an office; no cubes.
High-tech paperless office environment.
Work from home options.
Performance evaluations that provides timely career development.
Coaching/mentor program that enhances career paths.
Diverse clients for a better learning experience.
Extensive research resources to ensure quality and efficiency.
"We are honored to have been selected for the award, particularly as the judges were our employees," said Mark Cissell, President and CEO of KatzAbosch. Employee comments cited in the Sun's survey listed bonuses, great medical coverage, and good job satisfaction. "I feel that I am appreciated and that I am part of something important," wrote one employee in the survey.
The Top Workplaces are determined solely on employee feedback. WorkplaceDynamics, LLP, a leading research firm on organizational health and employee engagement, conducts regional Top Workplaces surveys with 40 major publishing partners across the U.S. WorkplaceDynamics says more than 5,000 organizations have used its services in the past year to better understand what's on the minds of their employees. In addition to surveying employee attitudes, the company offers training and tools to help clients solve workplace issues and improve working conditions.
About KatzAbosch, the top-rated Baltimore-area firm:
Founded in 1969, KatzAbosch is one of the largest CPA and business consulting services in the Mid-Atlantic region. As a Maryland accounting firm, our mission is to provide the highest quality accounting, tax, financial and management consulting services to our regional clients. We understand the needs and challenges of our clients and we have made it our obligation to create, grow and protect asset value. KatzAbosch is consistently named a Best Accounting Firm to Work For in Accounting Today and has been named a Top 200 Accounting Firms in the Nation by Inside Public Accounting for 2014. Our firm is also ranked among the Top 15 Largest Accounting Firms in the Baltimore Area by the Baltimore Business Journal.
For more information, contact: Kelly Ernest, 410.307.6388 or kernest(at)KatzAbosch(dot)com.