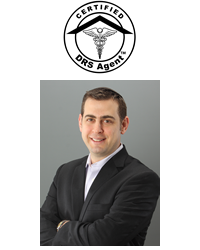 Our partnership with AMSA makes the DRS Designation an even more powerful tool for agents working in the medical community.
Atlanta, GA (PRWEB) December 08, 2014
DRS Agent™ Network, a service for Realtors who specialize in the home location needs of doctors, today announces a partnership with the American Medical Student Association (AMSA). As the oldest and largest independent association of physicians-in-training in the United States, AMSA's membership is made up of medical students, premedical students, interns, residents and practicing physicians.
"AMSA has selected DRS Agent Network to provide preferred benefits to our members who are often buying their first homes at the most exciting times of their lives," explained Jaime Thayer Scates, Sr. Director of Marketing & Business Development of AMSA. "Only qualified agents are accepted into the network, so that gives our members a certain level of confidence that the Realtor chosen understands the specific needs of physicians."
With the AMSA partnership, graduating medical students, residents and fellows now have a centralized place to go for realty services. Likewise, they have an information source that helps them with the physical transition to their destination city. With the newly announced partnership, AMSA members also have special benefits that include:

Free realty matching service
Three months of home appliance warranty plan at no charge
Daniel Frank, President of DRS Agent Network said the company formed the DRS Agent designation and network to fulfill two purposes. "We wanted a pre-screened, qualified group of real estate agents able to meet the growing needs of our physician clientele and also have a designation that empowers those agents to market and promote themselves as experts in serving the needs of the medical profession," says Frank.
Denver Broker/Owner Lisa Todd of Todd Realty Group said she was one of the first to sign up for the DRS Agent designation because it fit her business model. As a former medical malpractice defense attorney, Todd said she works with the unique home relocation needs of physicians, who are highly educated. "Physicians want to see that a Realtor is also highly educated and works with medical professionals on a regular basis," said Todd. "Understanding their needs and not just saying you work with physicians to get their business is important; the DRS Agent designation does just that."
About DRS Agent Network
The DRS Agent™ Network links medical professionals with the most qualified real estate agents that have the expertise, certification and knowledge to help meet the unique real estate needs of physicians since 2007. In 2008, the DRS Agent certification was developed at the request of real estate agents nationwide who wanted to formalize the network and differentiate themselves as the most qualified source for realty services for physicians, as well as to increase their business with more home buyers and sellers from the medical profession. For more information regarding the DRS Agent Network certification, please visit: http://www.drsagent.com.
About American Medical Student Association (AMSA)
AMSA is the oldest and largest independent association of physicians-in-training in the United States. Founded in 1950, AMSA is a student-governed, non-profit organization committed to representing the concerns of physicians-in-training. AMSA has a commitment to improving medical training and the nation's health. To learn more about AMSA, our strategic priorities, or joining the organization, please visit us online at http://www.amsa.org.