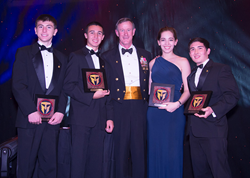 These amazing individuals have dedicated their lives to serving others as their own way of honoring those who have made the ultimate sacrifice, because they recognize it is their duty. Just as this is the same duty for all of us. -Ryan Manion Borek
Philadelphia, PA (PRWEB) December 09, 2014
For the 3rd consecutive year, the Travis Manion Foundation will host their annual "If Not Me, Then Who…" Gala, which is a national recognition of character and leadership. This event will have attendees from across the country, who are being honored for their dedication to selfless service within their local communities and beyond. Some notable figures in attendance will be Corporate Leadership Award Recipient - Chairman/CEO of Johnson & Johnson Alex Gorsky; If Not Me, Then Who… Award Recipient - Co-Founder/CEO of National Non-profit - Team Rubicon, Jake Wood; Co-Author of the book Brothers Forever, Retired Colonel Tom Manion, USMC; the last living Medal of Honor recipient from the Battle of Iwo Jima – Hershel "Woody" Williams, USMC; and Guest of Honor - Commander of the U.S. Southern Command, General John F. Kelly, USMC.
The event will be emceed by CBS Evening News Correspondent Don Dahler, who was the first to report live from scene of the World Trade Center attacks in 2001, as well as inside the Iraqi border during the height of Operation Iraqi Freedom. The evening will begin with a VIP reception at 6pm, and the full program starting by 7:30pm.
About Travis Manion Foundation
The Travis Manion Foundation is a qualified 501(c)3, founded shortly after the death of 1st Lt. Travis Manion in Iraq on April 29, 2007 by the fallen Marine's mother, the late Janet Manion. Her goal was to empower our nation's veterans and support other family members of the fallen, to ensure that our nation's heroes are never forgotten. The powerful words Travis spoke before leaving for his second and final deployment to Iraq – "If Not Me, Then Who..." – have inspired a national movement that is growing rapidly. The Foundation challenges veterans and families of the fallen to lead the "If Not Me, Then Who…" movement, and inspires others to continue the service to community and country exemplified by the nation's fallen heroes.