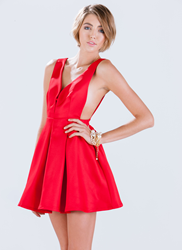 LOS ANGELES, Cali. (PRWEB) December 10, 2014
GoJane is a very popular discount clothing retailer for young women, and it is known for its inspiring lookbooks that come with each new season. The "Ready, Set, Soiree!" Holiday Party Collection is a collection of festive and fashion-forward clothing and accessories that are ideal to wear to any holiday event. Each piece in this latest GoJane lookbook is also available for the low prices that shoppers have come to expect from the online retailer.
In its Holiday Party Collection, GoJane offers shoppers a number of textured party dresses in satin, velvet and jacquard weaves. These unique dress fabrics are ideal for the winter season because they are much heavier than summer clothing materials. GoJane's party dresses come in longer lengths with edgy, slim-fitting silhouettes, and many of them even come in two-piece styles with matching cropped tops and skirts that are perfectly on trend for the current season.
To pair with its party dresses, the Holiday Party Collection also includes modern takes on the classic faux fur coat. "The modern fur coat comes in bright colors and cropped shapes, and it's much more fun than the more traditional furs of the past," said GoJane blog editor Malinn Cisneros. "Our faux fur coats come in everything from hot pink stripes to patchwork prints that all pair perfectly with that little black dress."
To complete the perfect winter party look, GoJane's Holiday Party Collection offers glitzy accessories and equally textured shoes. Bib-style statement necklaces feature layers of gold or silver embellishments, while sequined or studded clutches give the classic purse shape an edgy update.
GoJane is an online retailer of fashion-forward apparel for progressive young women. The website offers all of the latest trends in clothing and accessories for a fraction of the cost of designer brands. GoJane's helpful customer service team is available five days a week, and their 30-day return policy makes finding the right size fast and easy.
###