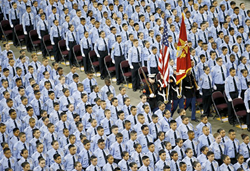 This is exactly the kind of investment. Mr. Charles mandated in his wishes for the foundation, and we could not be more delighted with the outcome.
(PRWEB) December 09, 2014
The LAPD Cadet Program Graduation of the Cadet "Class of 7-2014" took place at the University of Southern California Galen Center on Saturday, Nov. 22, 2014 in Los Angeles. The Ray Charles Foundation has gifted more than $1.5 million to the LAPD Cadet Program in recent years. 730 new Youth Cadets of The Los Angeles Police Department graduated to join the ranks of nearly 6,000 middle and high school students who have undergone the training to enhance student leadership, academic excellence, discipline and character development. The generous grants from The Ray Charles Foundation have enabled the program to grow in size and reach more youth in Los Angeles.
"Ninety percent of the participants in this police officer-led youth collaborative graduate from high school and many of them go on to college," stated Valerie Ervin, President of The Ray Charles Foundation. "This is exactly the kind of investment. Mr. Charles mandated in his wishes for the foundation, and we could not be more delighted with the outcome."
At this commencement exercise, thousands of dollars in academic scholarships were presented to college-bound seniors to further their scholastic achievement. Ray Charles learned as a young child the importance of education and that youth is a time to prepare for adulthood. He was grateful to discover that music was his mission in life and that his other purpose was to help others reach their potential.
In addition to the 730 new youth LAPD Cadets graduates, also honored at this graduation were over 300 Cadet Parents who graduated from the Cadet Parent Academy. This event celebrated the largest class in the half-century history of this youth outreach campaign – numbering over 1,000 student and parent graduates.
The LAPD Cadet Program is a dynamic youth-based enterprise and is the Los Angeles Police Department's "signature" program for community youth. The Program has a rich heritage of service, reaching students from all walks of life, guiding them towards excellence and enhancing their ability to live prosperous and productive lives. The Cadet Program places strong emphasis on leadership, character building, academic excellence and life-skills. During the eighteen-week Academy term, Cadets receive instruction in an array of study domains that include: Leadership, Law Enforcement Principles, Conflict Resolution, Physical Fitness, Life – Skills Education, Cultural Diversity, Financial Literacy and Gang and Narcotics Prevention.
In addition to representatives from The Ray Charles Foundation, Dr. C. L. Max Nikias, President, University of Southern California, Assistant Chief Earl C. Paysinger, Director, Office of Operations, Natalie Torres-Soriano, Senior Management Analyst and 730 Cadet graduates, as well as thousands of family members and friends attended the ceremony.
Ray Charles expressed concern about youth and the tremendous need for education. In 1986, under his direction and guidance, the Foundation embarked on a pattern of generous contributions and donations to various educational institutions across the United States.
The Ray Charles Foundation was established by Mr. Charles with the specific purpose to administer funds for scientific, educational and charitable purposes; to encourage, promote and educate, through grants to institutions and organizations, as to the causes and cures for diseases and disabilities of the hearing impaired and to assist organizations and institutions in their social educational and academic advancement of programs for the youth, and carry on other charitable and educational activities associated with these goals as allowed by law. The Foundation has provided financial donations to various institutions involved with areas of hearing diseases and cures, as well as other educational resources for the needy.
###