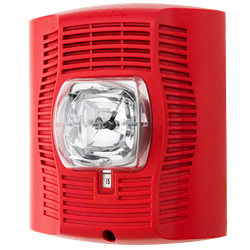 (PRWEB) December 09, 2014
The British are coming! The British are coming! Well not exactly. Paul Revere rode through the night years ago to warn of danger and to signal to the minutemen to get ready. History has shown that a capable warning system that can be seen or heard is essential sometimes to survival.
Depending on location an occasional tornado siren warning or two is not uncommon, and everyone recognizes the loud ringing and flashing lights at a railroad crossing as a train approaches. Everyone absolutely loved the typical fire drill in school with the unexpected loud buzzing sound and the teacher yelling "everybody line up"!
Of course, everyone knew it was probably just a drill or at least thought so. The focus was on just getting out of class into some fresh air and giggling with friends. However, in reflection, those drills were extremely important to school safety in case the real thing were happening.
In just a matter of minutes, a notification to evacuate could have been the difference between life or death in this scenario, so early warning was crucial.
Telcom Data understands the need for early warning systems and a competitive price that makes sense. With five great products to choose from, 1. System Sensor Horn | HW, 2.System Sensor Mini-Horn | MHR, 3. System Sensor Speaker Strobe, White | SPSW, 4. System Sensor Speaker Strobe Red No Lettering, 5. System SensorSpeaker Strobe, White, No Lettering | SPSW-P , your school, office building, warehouse or any large facility with large numbers of people, will be equipped to alert anyone of danger and to quickly get to safety.
These horns increase application flexibility for indoor or outdoor applications as they also notify the property ground. All of these devices can easily be adapted to suit a wide range of application requirements by using field-selectable sound patterns and volume settings.
The British may not be coming today, but Paul Revere would be proud.
System Sensors are now available at Telcom & Data. For more information about System Sensors, visit Telcom & Data's website or call 1-800-335-0229.
ABOUT Telcom & Data:
Since 1996 Telcom & Data has been providing thousands of telecommunication solutions to organizations around the world to measurably improve communications. The company is a leader in call recording and call accounting solutions. Telcom & Data maintains a network of over 1500 technicians with locations in Chicago, Milwaukee, and Miami.