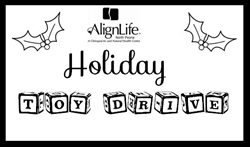 Consider donating a new, unwrapped toy this holiday season. Let no child be without a present.
Peoria, Il (PRWEB) December 16, 2014
It's the holiday season once again, and AlignLife of North Peoria is collecting new, unwrapped toys to donate to Toys For Tots and the Salvation Army. Many children go without gifts and AlignLife would like as many children to receive gifts as possible.
For new patients, they are offering a complimentary exam, consultation, and x-rays. Existing patients won't be left out as they can receive either 10% off any nutraceutical or $10 off a pillow for each donation. Donations can even be given in the name of a loved one to receive the gift of a free adjustment, consultation & x-rays.
AlignLife of North Peoria is making donating a new, unwrapped toy simple. Just drop off at their office at 7213 N Allen Rd, Peoria, IL 61614, anytime between 9:00am and 5:00pm from now until December 14th for Toys for Tots and they will take care of the rest. Any toys donated after this will be donated to the Salvation Army to continue the giving.
ABOUT ALIGNLIFE
AlignLife is a chiropractic and natural health franchise founded in 2007 with the mission to provide the highest quality of natural healthcare services to communities around the nation. The integration of chiropractic with other natural health services has proven to save time and money while reducing the hassles of dealing with the complex American health care system. AlignLife is operated by founder and CEO, Dr. Joseph Esposito and President, Dr. Cristina Esposito. For more information or to find a clinic new you go to http://AlignLife.com.