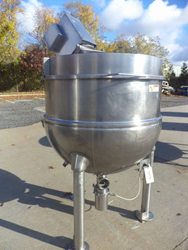 (PRWEB) December 08, 2014
Wohl Associates of Bohemia, NY, specialists in food processing and packaging machinery, add used agitated kettles from leading manufacturers Groen and Lee to their equipment inventory. Fabricated from food industry standard 316 grade stainless steel and jacketed for steam-heating, their inclined scraper-style agitators make them suitable for mixing and blending foods, cosmetics and similar products.
The Groen kettles are of the INA/2 type and measure 42" diameter and 34" deep, providing a capacity of 150 gallons. A 4" diameter valved outlet at the hemispherical base allows easy product discharge and the hinged stainless steel lid protects against contamination. Three tubular legs with floor-mounting flanges ensure stability.
One kettle stands on 30" legs and features pneumatic actuation of the discharge valve along with an agitator motor "encased" in stainless steel. The other stands on 32" legs and has a National Board and Code Stamped jacket rated for 100 PSI at 338 0F. Both utilize 2 HP Eurodrive motors.
The Lee agitated kettles both have a 200 gallon capacity and are also fabricated from 316 grade stainless. Stainless steel is also used on the hinged lids and the 3" diameter outlets which incorporate Lee "Fluid Flow" ball valves and 900 elbows. Standing on three 34" high tubular legs, one kettle measures 41" diameter and 43" deep and is jacketed for 100 PSI at 338 0F, National Board #12324, Code Stamped. An inclined 2 HP drive powers the scraper.
The other Lee kettle is jacketed for 90 PSI at 332 0F, National Board #9460, Code Stamped, and stands on 29" tubular stainless flanged legs. It measures 48" in diameter and 43" deep and has a 4 HP agitator. This kettle also features a "Vacon X Series" variable frequency digital drive and Hubbell "Circuit-Lock" disconnect switch.
On all these kettles the agitator motors require 3-phase, 60-cycle power at 230 – 460 volts.
Interested buyers can view photos of these and other used agitator kettles on the Wohl Associates website. If the particular item sought isn't listed buyers should discuss their application with a product specialist as other equipment may be a better match.
About Wohl Associates
Wohl Associates is a leading dealer in the used processing and packaging machinery industry. With a history and solid reputation spanning over 40 years, they have earned the trust of their clients by offering quality pre-owned equipment, expert customer service and invaluable knowledge to their customers. They treat each customer on an individual basis and customers are provided the highest level of service. With a large inventory including cartoners, ribbon blenders, stainless steel tanks, unscrambling tables, colloid mills and vitamin manufacturing equipment.
Wohl Associates has the pre-owned machinery to fit any production line. To view their inventory and learn more, visit them at http://www.wohlassociates.com/.