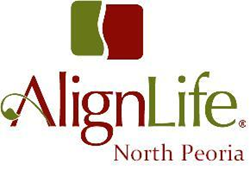 Peoria, Il (PRWEB) December 16, 2014
Dr. Kelch and his North Peoria AlignLife staff want to help people put those unfulfilled resolutions to rest and finally take a positive step towards health goals. At AlignLife of North Peoria, they want to help people finally reach health goals, and keep them at an optimum level.
On January 12, 2015, North Peoria AlignLife is hosting a "New Year, New You Workshop" at 5:45 in the evening. This is a free workshop where anyone can gain information on how to reach health goals, and prevent their body from being toxic. With the information that this workshop provides, AlignLife can assure attendees that they will have everything needed to fulfill resolutions that have been put off to long.
Don't hesitate, call today and reserve a spot in this workshop on Monday, January 12, 2015 as seating is limited.
ABOUT ALIGNLIFE
AlignLife is a chiropractic and natural health franchise founded in 2007 with the mission to provide the highest quality of natural healthcare services to communities around the nation. The integration of chiropractic with other natural health services has proven to save time and money while reducing the hassles of dealing with the complex American health care system. AlignLife is operated by founder and CEO, Dr. Joseph Esposito and President, Dr. Cristina Esposito. For more information or to find a clinic new you go to http://AlignLife.com.