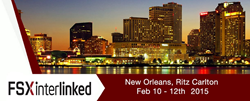 FSXinterlinked goes beyond the traditional investment conference framework, and enables companies and sponsors to continue connecting and building brand awareness after a conference ends through our innovative Interlinked investment platform
(PRWEB) December 11, 2014
FSXinterlinked, the premier event for emerging growth dealmakers, announced today that it is has begun accepting applications for presenting companies and sponsors for its quarterly conference to be held in New Orleans Feb. 10-12, 2015. FSXinterlinked will have hundreds of broker-dealer firms, funds, investment banks, companies raising capital, and investment service firms at the New Orleans event, making it the most efficient way to reach a highly targeted audience of investment professionals.
This must-attend event for emerging growth companies raising capital allows companies to present their investment opportunity to an audience of over 100 nationwide funding sources that represent thousands of investors. Investors will include private equity, broker-dealers, fund managers, registered investment advisors, venture capitalists, investment bankers, and more. In its 31-year history serving the financial industry, FSXinterlinked has helped raise over $3 billion in capital for presenting companies.
"FSXinterlinked goes beyond the traditional investment conference framework, and enables companies and sponsors to continue connecting and building brand awareness after a conference ends through our innovative Interlinked investment platform," said Delray Wannemacher, President and CEO of FSXinterlinked. "Presenting companies and sponsors benefit from unparalleled marketing opportunities and media coverage, including a comprehensive public relations campaign that is featured on our multiple platforms: Interlinked.com, FSXinterlinked and InterlinkedTV for greatest exposure.
Presenting companies can choose between two different presenter packages, both include a 15 min. formal presentation and a 15 min. roundtable on funding opportunities. Additionally, presenting packages include national press releases, InterlinkedTV interviews, access to an online community of investors, expo booth space, and a secure virtual data room for online equity funding.
Sponsors receive customized partner packages with marketing benefits across Interlinked's portfolio of efficient and effective face-to-face events, an online event portal, an investment community, as well as InterlinkedTV and member programs. Sponsors also gain exposure through national media outlets and receive two complimentary conference registrations.
To present at the conference, companies must meet FSXinterlinked investment requirements and complete the online application. Requirements include: financial stability, high growth potential, strong leadership, and PPM. Companies must also be looking for mezzanine financing, funding for private placements, IPOs, secondary financing, or investor exposure. Applications will be reviewed by a select committee of investment professionals. Presenting slots are limited so applying early is crucial to reserving a presenting slot.
What: Emerging Growth Investment Conference
Who: FSXinterlinked
When: Feb 10-12, 2015
Where: The Ritz-Carlton 921 Canal Street, New Orleans, LA 70112
Register: https://www.fsxinterlinked.com/fsx-conferences/new-orleans-investment-conference/
About FSXinterlinked
Founded in 1983, FSXinterlinked is one of the leading investment conferences in the U.S., and has been connecting emerging growth companies raising capital with broker-dealers, registered investment advisors, accredited investors, and licensed funding sources. With quarterly events hosted across the U.S., FSXinterlinked has assisted in over $3 billion in capital formation. The 3-day long events feature company presentations, networking opportunities, 1-on-1 meetings, educational seminars, FINRA updates, exciting keynote speakers and more. For more information, please visit http://www.fsxinterlinked.com