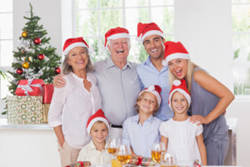 A lot can change with a parent's health in the year between holidays like Thanksgiving and Christmas
Richmond, VA (PRWEB) December 08, 2014
When is it time for a family member to move to a nursing home, or receive home care? Seniors Guide, a comprehensive resource listing of retirement communities, home care, products, and services for seniors, is helping seniors and their families navigate through the complexities of these scenarios this holiday season in Seniors Guide Magazine, and on http://www.SeniorsGuideOnline.com.
While visiting with older family members over the upcoming holidays, you may notice some signs that could indicate that more help is needed in their daily routine.
"The average adult child lives 480 miles away from their parents," says Katharine Ross, Vice President of Seniors Guide.
"A lot can change with a parent's health in the year between holidays like Thanksgiving and Christmas," says Ross.
Seniors Guide suggests the following for finding care for older adults online:
1) If an older spouse is struggling to take care of one another, hiring a home health care companion or scheduling an adult day service like respite could provide the right amount of care for their independent living.
"This could also be a good time to start looking into a continuing care retirement community, so that you can start living maintenance free, but get more assisted living help directly down the street should you need it," says Ross.
2) If an older parent or loved one is having difficulty keeping up with their home, personal health or hygiene, a permanent move to a retirement community would be a suitable option for promoting quality of life.
"Depending on the level of care needed, a skilled nursing home or an assisted living facility could provide the type of personal attention that family may not be able to," says Ross.
"This could also be a good time to transition your loved one to move to a community closer to you, so that you can visit and monitor their aging needs."
3) A sharp decline in personal appearance, a recent onset of memory loss, or an at-home injury may require immediate attention.
"If they absolutely need to remain in their home, many home care agencies do offer 24/7 around-the-clock care that can also be accommodate for any schedule," says Ross. "Many assisted living retirement communities and nursing homes offer memory support and care for patients and residents with Alzheimer's Disease and Dementia."
For additional information, Seniors Guide has published "Signs During the Holidays That Help is Needed," available online at http://www.seniorsguideonline.com/helpful-information/signs-holidays-help-needed
Seniors Guide, a Richmond, Va. -based company publishes Seniors Guide magazines throughout Cincinnati, Ohio; Columbus, Ohio; Dayton, Ohio; Indianapolis, Indiana; Raleigh-Durham, North Carolina; Richmond, Virginia; and Roanoke-Lynchburg, Virginia and features a correlating website of SeniorsGuideOnline.com. Seniors Guide's mission is to help seniors and their families find the information they need on options available in senior housing, senior care, assisted living, independent senior living, retirement communities and other retirement living needs. Seniors Guide also has resources at HomeCareChoice.com for Cincinnati, Ohio; Columbus, Ohio; Dayton, Ohio; Raleigh-Durham, North Carolina; and Richmond, VA. Ross Publishing, Seniors Guide's parent company, began in 1991 and has been publishing helpful, free publications and websites ever since.