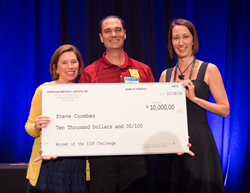 Delray Beach, FL (PRWEB) December 10, 2014
American Writers & Artists Inc. (AWAI), http://www.awaionline.com, announced freelance copywriter Steve Coombes as the winner of its 2014 $10K Challenge. Coombes received his award — and contract for $10,000 worth of work with AWAI in the coming year — during a ceremony at AWAI's FastTrack to Copywriting Success Bootcamp and Job Fair.
Coombes, an IT specialist-turned copywriter who specializes in the natural health, emergency preparedness, and survival niches, has been a freelance copywriter for seven years. He's also a speaker, book author, and member of AWAI's Circle of Success program.
"Earning recognition as a $10K Challenge Winner is truly special for me," says Coombes. "Joining the ranks of the successful copywriters who have walked the stage to accept this award in previous years — including my mentors, Joshua Boswell and Pam Foster, who offered so much valuable advice to me when I was first getting started — is a huge moment in my copywriting career."
The $10K Challenge is held every year. To be eligible for the $10,000 contract from AWAI, active AWAI members are encouraged to submit a sample headline and lead for a sales letter for any of AWAI's 60+ programs and services. Those who get a "green light" to continue from the AWAI marketing team are paid a fee and asked to complete their letter. Once the letter is done, the writer receives another fee from AWAI.
Next step – AWAI will "test" the letter in the marketplace – meaning it will be mailed and results will be measured. A successful test then puts the writer in the running for the $10,000 contract from AWAI.
Once a year, Katie Yeakle and Rebecca Matter review all of the copy written by AWAI members that's been tested. They'll analyze sales results, profits earned, and the breakthrough nature of the copy. Based on those results, one person will be selected each year to receive additional contracted assignments from AWAI — to the tune of $10,000!
Coombes's winning entry was a breakthrough sales letter for the launch of a new AWAI program, Essential Business Templates for Your Copywriting Business.
To find out more about AWAI's $10K Challenge and how to enter (the Challenge is open to any active AWAI member), go here: http://www.awaionline.com/10k/.
About American Writers & Artists Inc.
American Writers & Artists Inc. (AWAI), http://www.awaionline.com, has been publishing direct-response copywriting and graphic design home-study programs since 1997. Their mission is to help people develop the critical skills to acquire financial security, independence, and freedom. AWAI equips members with the tools and connections necessary to land clients, start working professionally, and earn money fast. And through their free DirectResponseJobs.com site, businesses can find and hire skilled AWAI members quickly and easily. For a complete list of programs and more information about AWAI, please visit the site or call toll-free (866) 879-2924.