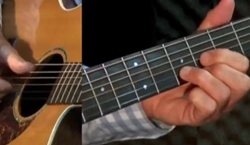 (PRWEB) December 05, 2014
Dillon performs the chord progression from the song "Hard Times" by Ray Charles in this cool acoustic blues guitar lesson. This chord progression contains a large variety of various chord voicing's including; major, minor, diminished and seventh. This progression is a staple to Ray Charles style because of the chromatic movements within it. Dillon says that this is a fun progression to solo over and does some brief demonstrating of it using the pentatonic scale. This video guitar lesson is a sample from Jimmy Dillon's new course "Ultimate Acoustic Blues Deluxe". The new course as well as guitar TAB's for this cool acoustic guitar lesson are available at GuitarControl.com.
The Chromatic Scale is a scale that uses 12 pitches each of which are one semitone above or below one another. Each semitone is the same size, 100 cents, and is equally spaced from one another.
A Pentatonic Scale is a musical scale with five notes per octave and is very common and found all over the world.
Ray Charles is a native of Georgia and is credited as the "father of soul" and influenced generations of musicians by combining gospel, blues, and jazz thus creating the sound of "Soul".
Jimmy Dillon
Hailing from the state of Michigan Jimmy Dillon is an award winning songwriter, recording and performing artist, and the director of Blue Star music camp. He has shared the stage with the likes of Carlos Santana, Sting, B.B. King, and many more. He is a multi style guitar teacher and has five albums under his belt.
About GuitarControl.com
GuitarControl.com is the leader in modern guitar instruction. It's packed with recourses including articles,video lessons, and the best videos in the business for the beginner to the advanced guitar student taught by the best instructors out there. Weather you are into the blues, rock, jazz, metal, folk, or anything in between, they have you covered.