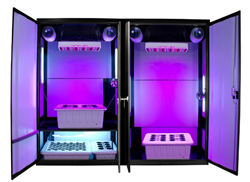 SuperCloset is breaking new ground once again with the development of the SuperTrinity, the world's largest indoor stealth grow box.
Santa Rosa, CA (PRWEB) December 05, 2014
The "SuperNova," the largest rendering of SuperCloset's number one selling grow cabinets, has been redesigned in the image of the popular "Trinity 3.0" to create the world's largest indoor stealth grow cabinet. This new all in one triple chamber grow cabinet system is an astounding 92" wide, 24" deep, and 78" tall. It features two professionally air-cooled, closed loop, HPS 600 watt lighting system, or two of the award winning Kind LED K3 L600 LED Grow Lights.
Other features unique to the SuperTrinity are the bottom vegetation chamber that includes a SuperCloner-50 as well as a SuperMother hydroponics system, the Quad-Carbon Filtration configuration, and the T-5 Side Lighting. The SuperCloner-50 and the SuperMother hydroponics system, allows a grower to harvests continually as plants are cloned in the first chamber, and vegetated in the second chamber, and flowered in the third. The Quad-Carbon Filtration configuration is comprised of four fans positioned behind charcoal filters and oriented to pull waste air through the filters. The Quad-Carbon Filtration system doubles the amount of air being pulled in and out of the SuperTrinity, which translates into healthier plants, and total odor mitigation. The T-5 Supplemental Side Lighting is the addition of four full spectrum T-5 lights positioned on the right and left side of the flowering and vegetation chambers. The T-5 Supplemental Side lighting provides light to the bottom third of the plant's body mass leading to a larger yield of usable plant matter. A SuperPonics-16 system is what the large flowering and slightly smaller vegetation chamber above the propagation chamber use to grow 16-huge plants, completely automated with virtually no maintenance other than changing out water once every 7-10 days. SuperPonics is defined as the "fusion of proven hydroponic methods." SuperPonics systems grow plants up to 2-5X faster than traditional methods. The different hydroponic methods of top feed drip and bottom bubble feed deep water culture provide redundant safety systems in case either a water pump, air pump, or electrical circuitry fails. Plants stay strong, and healthy in SuperPonics systems through nearly all situations, which make the SuperTrinity an ideal product whether one is a beginner or professional. As usual with all SuperCloset grow cabinets, the SuperTrinity blends in perfectly in any home, locks up securely, is pre-assembled, and comes with every imaginable component enabling a new customer to be up and growing within 90 minutes of receiving their SuperTrinity.
About SuperCloset:
SuperCloset takes the guesswork out of growing through manufacturing the most innovative and customer friendly hydroponic systems and turnkey grow box units. After 10 years SuperCloset continues to lead the horizontal and vertical growing industry with its commitment to excellent products and world-class customer service.