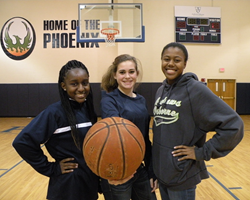 "You're not really thinking about stats during a game, but this is really about all of us, as a team."
Willoughby, OH (PRWEB) December 05, 2014
We are proud to announce that Andrews Osborne Academy athletes rank in the top 10 in stat leaders for Girls Basketball in the state of Ohio. Freshman Jade DuVal leads the state of Ohio with 27 Field Goals. DuVal also comes in third in Total Points with 54 and second in Steals with 15. Freshman, Gabby Culotta has taken second and third in the state with 25 Rebounds and 3 Blocks. Following closely after DuVal in Steals is Freshman Ariana Story with 8.
Although the season just started, the Andrews Osborne Academy Girls Basketball Team has picked up wins against Christian Community and Fuchs Mizrachi. The Lady Phoenix take on Notre Dame Cathedral Latin tomorrow on the NDCL campus in Chardon, OH.
Andrews Osborne Academy is a co-educational, independent, college preparatory day (grades pre-kindergarten through 12th) and boarding (7-12) school. Our lower, middle, and upper school students learn and thrive in a multicultural environment. Our 300-acre campus, near Cleveland, Ohio, is truly a global village with some of the best and brightest students from down the street, across America, and around the world. Contact the Office of Admission to arrange a tour at 440-942-3600 or visit our website at http://www.andrewsosborne.org.