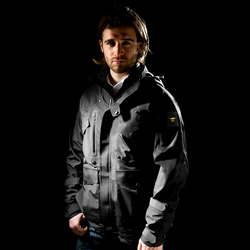 Madison Heights, Mi (PRWEB) December 05, 2014
With only 50 in existence, Moosejaw's newly released Royale Jacket is one of the most exclusive jackets in the world. It's so exclusive that people can't simply buy a Royale, they must apply for the privilege to own one. In the few weeks since its introduction and with minimal exposure, Moosejaw has received over 2,700 applications for the 50 pieces, meaning that less than 2% will be successful.
Since no one else has offered yet, Moosejaw decided to interview themselves. We sat ourselves down with our very own Eoin Comerford, Moosejaw's CEO, and Steve Fife, Moosejaw's Chief Merchant.
So why build this super exclusive jacket?
EC: When we were developing our Fall line last year, I got tired of hearing our designers complain about the limitations of hitting certain price points or production volumes, so I told them to just design the best jacket ever. The idea was that having no constraints would lead to some really great innovations that might make future iterations of our outerwear.
What makes it so special?
SF: We wanted it to be really versatile, so it's actually a 5-in-1 that can be worn as waterproof hooded shell, a non-hooded shell, an insulated hooded shell, insulated non-hooded shell, or an insulated jacket. Then if you consider wearing the jacket backwards, it becomes a 14-in-1 Jacket. Wearing it on your legs opens up even more possibilities. The applications of The Royale are truly infinite.
Ok, but there are other 5-in1 "systems" jackets out there. Why is this a $1,500 systems jacket?
EC: Well, when we told the designers that money was no object, they really went for it. This jacket has absolutely the best of everything in terms of materials -- the shell uses Schoeller®'s c_change™ waterproof breathable fabric, while the insulator uses 950-fill Hungarian goose down and windproof Pertex®. It's also made right here in North America.
SF: Right, plus it's really expensive when you're only making 50, especially when you're developing all custom patches, snaps, trims, etc.
Then why make only 50? Why not 500?
EC: We only made 50 because we knew we wanted it to be an exclusive thing. Plus 50 jackets fit perfectly in one large box. Any more than 50 and we'd be dealing with more than one box and that just felt like too much of a hassle.
Why the whole application process?
SF: Since we only made 50, we didn't want some hedge fund glee club to come in and snap them all up on the first day. We wanted to make sure they got into the hands of people who'd really appreciate this special jacket.
EC: We also did it just to be dumb... so we could ask people about how many castles they have and where they "summer"... really take it over the top.
So how do you pick the 50 people that get to own one?
EC: It's going to be tough, but we're looking for people that love the Moosejaw Madness and will actually use the jacket to do cool stuff. We'll be denying majority of the applicants and everyone's surely going to hate us.
Can people still apply?
EC: Just for a few more days at http://www.moosejaw.com/Royale. We're going to close down the application process on December 12th.
MJ: Will there be more Royale Jackets or is this a one-time deal?
SF: We plan to make this an annual thing, so this is actually Royale I. We've already started to develop the Royale II, which will be for the ladies. Then we've got the Royale III in the pipeline, which as you've guess, will be designed specifically for dogs.
To fill out an application, find more information, or just stare at The Royale longingly, please visit Moosejaw.com/Royale.