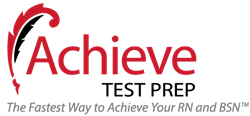 Prioritizing the BSN is our way of prioritizing our students' career development and long-term success.
Wayne, NJ (PRWEB) December 18, 2014
Achieve Test Prep, a leading provider of credit-by-exam test prep courses for nursing degree credit, recently altered its focus to emphasize LPN-to-BSN programs above the more truncated bridge programs that culminate in just an associate's degree. The changing emphasis comes in response to shifting RN employment standards, which point to BSN completion as all but a prerequisite for a successful, long-term career in nursing. As more hospitals and healthcare employers demand bachelor's degree-holding RN candidates, ATP will begin phasing out LPN-to-RN programs, which were designed to help licensed practical nurses obtain an associate degree in nursing en route to RN licensure.
"It has always been our mission to provide a more efficient, cost-effective way for nurses to advance," said Mark Olynyk, CEO of Achieve Test Prep. "And the goal of our credit-by-exam bridge programs is to help nursing professionals build on the medical knowledge and clinical experience they already have. However, we are seeing major changes in the job outlook and advancement realities for ASN prepared nurses. Our new focus on BSN bridge programs will help us ensure that graduates have all the opportunities they deserve."
For generations, registered nursing has been an extremely popular career field, offering competitive wages and advancement opportunities to a broad segment of job seekers. An associate degree in nursing—or even the completion of an accredited diploma program—was enough to qualify for the NCLEX exam and gain entry into the profession.
Today, healthcare leaders are rethinking the effects of additional nursing education on patient outcomes and quality care levels. Several studies suggest that morbidity rates and readmission rates decline in association with BSN-prepared nurses. Meanwhile, as healthcare delivery models change and physician shortages emerge, nurses are expected to assume more prominent roles in primary care, acute care, and residential care settings. For all these reasons, pundits believe a BSN should be the new entry standard for RNs.
"Right now, the BSN push is still just a trend versus a professional requirement," explained Olynyk. But we can recognize where nursing is headed. And we can see that many of our college and university partners are shying away from issuing ASNs to those enrolled in bridge programs. Prioritizing the BSN is our way of prioritizing our students' career development and long-term success, as well."
ATP's credit by examination model ensures that students learn all the necessary course content, then pass standardized exams in order to earn full college credit. ATP's programs work with a variety of well-known colleges and universities, who issue the appropriate credentials, according to their transfer credit policies. To learn more about the current state of nursing education and the growing emphasis on BSN completion, read Why a BSN Makes Sense Right Now.