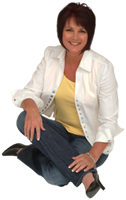 "Escape Anxiety is a powerful program that will help many people calm the worry and stress that steals their joy."-Dr. Daniel AmenAmen Clinics, Inc.
New York, NY (PRWEB) December 05, 2014
SelectBooks, Inc. is pleased to announce the debut of Suzanne Jessee's television special "Escape Anxiety" with Detroit Public Television this Saturday, December 6th at 3:30 p.m. In this 60-minute special, Suzanne will explain the techniques and science behind her therapy and bring her innovative techniques into the public eye to help remove the stigma of shame surrounding anxiety and mental disorders. The program discusses material that is explained at length in her upcoming book Escape Anxiety: 8 Steps to Freedom through Meditative Therapies published by SelectBooks (ISBN: 978-1-59079-301-5; February 2014).
By empowering sufferers of anxiety and depression with methods of positive thinking, the Escape Anxiety process builds a psychological base from which people can work to build their self-esteem. With this television special and her new book, Jessee is now poised to deliver her specialized therapy to the greater public. Her unique contribution to anxiety treatment has been recognized by leaders in the field, including The Betty Ford Clinic and Dr. Bernie Siegel, best-selling author of Love, Medicine and Miracles and 365 Prescriptions for The Soul. Dr. Siegel, who has been at the forefront of innovative psychological therapy since the late 70's, endorsed Suzanne's book stating, "If you have the desire to change your life and rebirth yourself free of your old emotional afflictions, this program will coach and guide you in ways which will allow you to escape your past and its destructive messages." He will also join Suzanne during the television program for an extended interview.
With 40 million Americans suffering from anxiety disorders, Jessee saw the need for a comprehensive treatment using an innovative holistic approach. Her methods and research have been focused to help both sufferers and the general public better understand the myriad issues that are involved in mental disorders, and overcome them. A core concept of her Escape Anxiety process is Neurogenesis Meditative Therapy, which combines therapeutic techniques of Cognitive Behavioral Therapy and meditation practices to help sufferers work through their specific problems. The eight-step program provides a structure for sufferers to navigate the necessary life-changing habits to find freedom from the prison that exists within their minds. At the heart of her techniques, Suzanne demystifies the various causes of the disorders due to genetics, personality, and life events and offers meditation as a transformative option and alternative to synthetic medication.
Suzanne Jessee began working on solutions to anxiety disorders after her own hospitalization and recovery from severe depressive and panic disorder in 1992. She earned an MA in Addiction Studies at Hazelden chemical dependency treatment center and her BS in psychology at Eastern Michigan University. While her Escape Anxiety program has been widely used at the Betty Ford Clinics and other professional treatment centers, the broadcast of "Escape Anxiety", and the subsequent publication of her book, will bring Suzanne's work to a new level of exposure and availability as an in-home treatment. This broadcast is also a part of the Detroit Public Television pledge drive and copies of the book and the DVD will be issued as "thank you" gifts for donors to the stations. A preview for the Escape Anxiety program can be seen at http://www.dptv.org/topics/health-wellness/escape-anxiety/
###