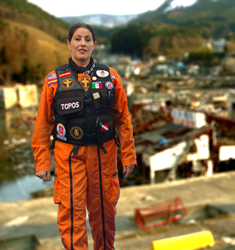 In the middle of great catastrophe, confusion and loss, I saw the change that just one person can create with L. Ron Hubbard's technology.
(PRWEB) December 05, 2014
True to her name, Felicidad Serrano is all about bringing happiness. She is also all about compassion and courage.
A Scientologist since 1991, Serrano was one of 800 Volunteer Ministers who served in New York after the September 11 terrorist attacks.
In the early days of the rescue effort, first responders were working around the clock under horrendous conditions. Many of them were in shock themselves, suffering the loss of comrades-in-arms that had died that September morning. With the skills she learned in Volunteer Minister training, Serrano was able to help rescue workers overcome their grief and despair. "In the middle of great catastrophe, confusion and loss, I saw the change that just one person can create with L. Ron Hubbard's technology," she says.
Serrano went on to respond to many other disasters, including the San Diego brush fires of 2007, the 2010 Haiti earthquake and the 2011 Japan tsunami.
It was in Japan that Serrano took on an entirely new level of commitment. She met members of the elite Mexican search and rescue team known as "Los Topos" and witnessed them pulling survivors from the rubble of collapsed buildings. She asked if she could assist them and it wasn't long before Los Topos was apprenticing her in search and rescue skills.
"They trained me how to go under houses, how to move, how to look, smell, where to step, where not to step—all in a real-life scenario in Sendai's Ground Zero," she says. "If you step in the wrong direction or move in the wrong way, you put your life in danger."
After returning from Japan, Serrano traveled to Mexico several times to continue her training with Los Topos until she became a fully qualified and accepted member of their renowned search and rescue team. She has further expanded her disaster response skills by completing United Nations-approved advanced training by the French Army, including triage, disaster rescue and underwater dive/rescue.
But it is her skills in applying Scientology assists—techniques developed by Mr. Hubbard that enable the individual to overcome the emotional and spiritual factors in trauma and injury—that Serrano values most. She remembers clearly the difference she was able to make for a 10-year-old child in November 2012. Serrano was in Guatemala, responding to a severe earthquake, when the young boy's mother approached her. The mother had heard that the Scientology Volunteer Ministers might be able to help her son—he had been completely unresponsive since the earthquake struck three days earlier. For four hours, Serrano applied a series of assists to the boy, until he pulled out of his shock, brightened up and began talking and laughing again.
Serrano's commitment, courage and ability make her an example of what it means to be a volunteer. Wherever she goes, the enormous number of men and women who are willing to help strikes her. And she is certainly not planning to let up. Because changing the world is a big job, but we can. Together.
International Volunteer Day was established by the United Nations General Assembly in 1985 to "promote activities to stimulate greater awareness of the contribution" of the work of volunteers.
UN Secretary-General Ban Ki-moon has described volunteerism as "a two-way street. Even as volunteers help generate positive change for others, their own lives are often transformed by the act of volunteering itself."
The Volunteer Minister program was created by Scientology Founder L. Ron Hubbard to bring effective physical and spiritual assistance to anyone, anywhere. Expressly intended for use by Scientologists and non-Scientologists alike, anyone of any culture or creed may train as a Volunteer Minister and use these tools to help their families and communities. And all are welcome to do so.
The Church of Scientology International recognizes the many thousands of Scientologists and the thousands of men, women and children of other faiths who partner with us in working to create a better world.
Scientology Founder L. Ron Hubbard wrote, "The biggest right there is, is not the right to vote, is not the right to freedom of speech or press or religion or anything else. The biggest right there is in human rights is the right to help."
For more information on the Volunteer Minister program and the other humanitarian initiatives sponsored by the Church of Scientology, or to order a copy of the new brochure, Voice for Humanity—Real People, Real Help, visit the Scientology website.