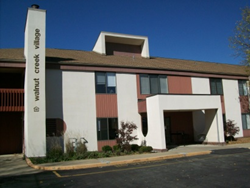 We appreciate RED's deep experience in working with affordable properties that allow us to continue to serve this important audience.
Columbus, OH (PRWEB) December 08, 2014
RED Mortgage Capital, the mortgage banking arm of RED Capital Group, LLC, announced today the origination of an FHA 223(f) loan for National Church Residences for Walnut Creek Village in Baltimore, OH. This $1.8M mortgage provided needed renovations, as well as amenities for the residents to comfortably age in place.
Walnut Creek Village is a 40-unit Project-Based Section 8 rental assistance property, which caters to low income seniors and handicapped residents. In conjunction with the FHA 223(f) refinance, the owner also closed on a $3.284M Service Enriched Housing (SEH) Grant, which was awarded by HUD under the Assisted Living Conversion Program (ALCP). The grant funds will be used to renovate the project to enhance services to the tenants and provide additional amenities such as modifications to the kitchens and bathrooms, new finishes, and new Energy Star® appliances and lighting. The project will also see the creation of therapy rooms, expansion and refurbishment of the existing common dining area, creation of new commercial kitchen and laundry facilities, and construction of exercise and passive activity rooms.
National Church Residences of Columbus, Ohio is a non-profit subsidiary of National Church Residences, which was founded in 1961. National Church Residences has over 335 senior living communities in its current portfolio and is an innovative leader in integrating housing, health care, and other supportive services for seniors, families and others in need.
Michelle Norris, President of National Church Residence Development Corporation, said "HUD's support of this project preserves the existing stock of much needed affordable housing and with the SEH grant, positions it well to offer appropriate amenities, which will better provide for residents to age in place." Norris continued, "We appreciate RED's deep experience in working with affordable properties that allow us to continue to serve this important audience."
"We have worked with National Church Residences on many other projects structuring various financing packages to accommodate the property needs," said Tracy W. Peters, Senior Managing Director at RED. "This is just another example of how we were able to work with HUD and National Church Residences to accomplish the renovation goals. RED was pleased to be part of structuring this transaction on a quality property that will be there to serve seniors in a comfortable and well-designed setting."
About RED CAPITAL GROUP, LLC
Recognized for its industry expertise, innovative and comprehensive structures, and consistently high rankings, RED CAPITAL GROUP, LLC has provided over $55 billion of integrated debt and equity capital since 1990 to the seniors housing and health care, multifamily, affordable, and student housing industries through three operating companies. RED Mortgage Capital, LLC is a leading Fannie Mae DUS® and MAP- and Lean-approved FHA lender with a mortgage servicing portfolio of almost $16.6 billion. RED Capital Markets, LLC (MEMBER FINRA/SIPC) is a leader in the distribution of Fannie Mae and Ginnie Mae Project MBS, and provides structuring, underwriting, placement, and advisory services for tax-exempt and taxable housing and health care bonds. RED Capital Partners, LLC provides proprietary debt and equity solutions, and asset management in a range of forms, including subordinated gap and bridge loans. RED CAPITAL GROUP, LLC is a subsidiary of ORIX USA Corporation. For more information on RED CAPITAL GROUP, see http://www.redcapitalgroup.com.
About ORIX USA Corporation
ORIX USA Corporation is a diversified financial company with approximately $6 billion of assets in sectors spanning commercial finance, venture finance, commercial real estate and public finance, as well as $25 billion of assets managed for others. Operating subsidiaries include Houlihan Lokey, RED CAPITAL GROUP and Mariner Investment Group. Headquartered in Dallas, Texas, ORIX USA and its subsidiaries have more than 1,400 employees and offices in major cities including New York, Los Angeles, London and Tokyo.
ORIX USA is a wholly owned subsidiary of ORIX Corporation, a Tokyo-based, publicly owned international financial services company with operations in 35 countries worldwide. ORIX Corporation is listed on the Tokyo (8591) and New York Stock Exchanges (IX). For more information on ORIX USA, visit http://www.orix.com.
DUS® is a registered trademark of Fannie Mae