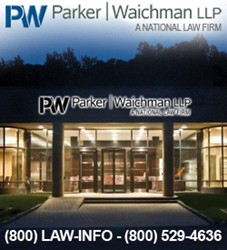 "Our firm is available to offer free legal consultations to consumers who have purchased GM vehicles that were manufactured with a defective ignition switch." said Gary Falkowitz, Managing Attorney at Parker Waichman LLP
Port Washington, New York (PRWEB) December 06, 2014
Parker Waichman LLP, a national law firm dedicated to protecting the rights of consumers, comments that a New York federal judge has remanded a lawsuit brought by California district attorney Tony Rackauckas against General Motors LLC back to state court. The lawsuit, brought over GM's ignition switch defect, was remanded after the Court agreed with the prosecuting attorney that the matter was exempt from removal as a police-power action. The case is California v. General Motors LLC, case number 1:14-cv-07787; the multidistrict litigation (MDL) is In re: General Motors LLC Ignition Switch Litigation, case number 1:14-md-02543. Both cases are in the U.S. District Court for the Southern District of New York.
On February 10, 2014, GM announced that it was recalling certain models of its Chevy Cobalt and Pontiac G5 vehicles, affecting over 780,000 cars. Just days later, the company expanded its recall to include 1.6 million vehicles worldwide. The full list of recalled models now includes:

2005-2007 Chevrolet Cobalt
2006-2006 Chevrolet HHR
2003-2007 Saturn Ion
2007 Pontiac G5
2006-2007 Pontiac Solstice
2007 Saturn Sky
Documents filed on the National Highway Traffic Safety Administration's (NHTSA) website indicate that the problem with these vehicles is that "the weight on the key ring and/or road conditions or some other jarring event may cause the ignition switch to move out of the run position." As a result, the engine turns off and the driver is unable to access vital features such as brakes, airbags and power steering. GM told NHTSA that the cars' "ignition switch torque performance" failed to meet mandatory specifications.
When consumers have purchased a vehicle that has been recalled, consumers may be entitled to some type of remedy or compensation. Should the defect that led to the recall be associated with an accident, injury, or death, compensation may be greater than simply taking the vehicle in for a repair, Parker Waichman LLP notes.
Approximately $10 billion in claims were filed against GM in case number 1:14-md-02543, which includes two consolidated New York federal complaints. One of these includes a class action lawsuit. Issues involve alleged defects including the deadly ignition switch and alleged violations of state consumer protection statutes, breach of implied warranties, fraud by concealment, unjust enrichment, and other claims involving more than 60 recalls affecting GM-branded vehicles sold in the United States from model years 1997 to 2014. The proposed class action seeks damages for a class of consumers and used car dealers that include those who own, have owned, or who have leased a new or used GM vehicle sold between July 11, 2009 and July 3, 2014. The second consolidated lawsuit involves cars purchased or leased prior to the carmaker's bankruptcy. The putative class action explains GM's allegedly "unprecedented abrogation of basic standards of safety, truthfulness and accountability to the detriment of tens of millions of consumers and the public at large…. The systematic concealment of known defects was deliberate, as New GM followed a consistent pattern of endless 'investigation' and delay each time it became aware of a given defect," according to court documents.
The primary class action covers all GM vehicles sold after the bankruptcy proceedings and accuses GM of misrepresentation, concealment, and non-disclosure of a number of safety defects. The second consolidated complaint seeks compensation for GM car owners whose vehicles suffered from ignition-related safety defects that might allegedly cause ignition switches to move out of the "run" position and into the "accessory" or "off" position when driving. This leads to a power loss and loss of control over vehicle speed and braking, and airbag deployment failure. (In re: General Motors LLC Ignition Switch Litigation, case number 1:14-md-02543, in the U.S. District Court for the Southern District of New York)
The state lawsuit was filed in June and in response to the way in which GM handled the ignition switch defect in state court; GM removed the lawsuit to California federal court in August. Also, in August, GM told a New York bankruptcy court that California's lawsuit involved liabilities against GM's bankruptcy estate and the so-called "New GM," thus warranting the transfer to the MDL. When Old GM went through bankruptcy, New GM was no longer held responsible for "Old GM's" liabilities, which are now under New York bankruptcy court oversight. New GM alleges that the DA's lawsuit involves liabilities in that category and must; therefore, remain in New York and also argued that allowing the DA to utilize the police-power exception would make actions brought by government units against businesses an automatic use of that exception. In September, the U.S. Judicial Panel on Multidistrict Litigation transferred the case to the MDL. (California v. General Motors LLC, case number 1:14-cv-07787; MDL: In re: General Motors LLC Ignition Switch Litigation, case number 1:14-md-02543. Both in the U.S. District Court for the Southern District of New York)
U.S. District Judge Jesse M. Furman granted the DA's motion to remand, noting that civil penalties under California's Unfair Competition Law (UCL) and False Advertising Law (FAL) were punitive and meant to ensure compliance. "The monetary remedies available to plaintiff through the UCL and FAL are thus means of reaching the ultimate goal of such actions—deterring fraud and unfair trade practices by California corporations—not the ultimate goal itself," Judge Furman wrote. Judge Furman also found that private citizens brought the MDL cases, an important difference, writing, "The identity of the plaintiff is not merely relevant—it can indeed mean the difference between whether the exception applies and whether it does not."
According to Judge Furman, GM's argument overstated the matter—the exception would only be applicable to cases brought under laws whose main purpose involves enforcing police-power. "To the extent New GM has a valid complaint, it should be directed to Congress," Judge Furman wrote. "This court's task is not to decide whether the police-power exception is good policy." The judge ruled that the case did not present any federal questions as it was brought under state law and the lawsuit was remanded to Orange County Superior Court, despite that GM sought to maintain the case in federal MDL over allegations that the case was subject to bankruptcy proceedings involving so-called "Old GM." According to GM, the Orange County DA, could not utilize the police-power exception to bankruptcy jurisdiction as the lawsuit's key goal was monetary gain, not future violation prevention.
"Parker Waichman LLP is troubled by the matter involving the allegedly defective ignition switches associated with GM vehicles and potential moves to delay the litigation," said Gary Falkowitz, Managing Attorney at Parker Waichman LLP. "Our firm is available to offer free legal consultations to consumers who have purchased GM vehicles that were manufactured with a defective ignition switch."
For more information, please visit the firm's GM Ignition Recall page at yourlawyer.com. Free case evaluations are also available by calling 1(800) LAW-INFO (1-800-529-4636).