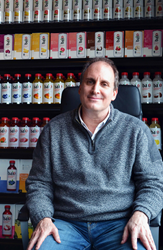 "Michael has helped transform brands into household names and made established brands even bigger." - Ben Weiss, Founder and CEO of Bai Brands
HAMILTON, NJ (PRWEB) December 08, 2014
Bai Brands, maker of the Bai5 and Bai Bubbles lines of all-natural, five-calorie, antioxidant-infused beverages, today announced the appointment of Michael Simon — a veteran marketer within the food and beverage industry — as its Chief Marketing Officer.
Simon comes to Bai with more than two decades of experience in raising the profile of major consumer brands such as Panera Bread, Pepperidge Farm and Godiva Chocolatier. Simon brings a strong track record of guiding prominent consumer brands to new heights. His vast experience in amplifying and differentiating fast-growing brands through breakthrough marketing activation aligns perfectly with Bai's mission.
"Michael has helped transform brands into household names and made established brands even bigger," said Ben Weiss, Founder and CEO of Bai Brands. "Bai's mission is to disrupt the marketplace and to move it in a healthier direction by developing innovative, all-natural beverages with amazing flavor. Michael's peerless track record, combined with the endless creativity of Bai's CCO, Chad Portas, is an ideal match to lead our efforts to expand Bai's presence and to uphold our mission."
Simon said, "Bai is renowned as one of the fastest-growing and most distinctive companies in the beverage industry. The brand is ideally positioned to capitalize on consumers' desire for healthier beverage options that don't sacrifice on taste. I am thrilled to be joining the Bai team to help guide our efforts to raise awareness of this fantastic brand."
Simon rounds out Bai's dynamic senior leadership team, which includes Weiss, President Ken Kurtz, Chief Financial Officer Ari Soroken, Chief Operating Officer Barak Bar-Cohen and Chief Creative Officer Chad Portas. Simon will oversee a marketing team that includes staff at the company's headquarters in Hamilton, NJ, and new office in Saxonville, MA.
Before joining Bai, Simon served for five years as Executive Vice President and Chief Marketing Officer for Panera Bread. He previously spent 17 years with Campbell Soup Co. in several leadership roles, including Senior Vice President/General Manager of the Snacks Division at Pepperidge Farm, and senior marketing positions in Pepperidge Farm's Bakery Division and at Godiva Chocolatier.
About Bai Brands
Bai5 Antioxidant Infusions are innovative beverages that harness the goodness of coffeefruit, one of nature's most powerful antioxidants. During Founder, Ben Weiss', over 20 years in the specialty coffee business, he learned a coffee-grower's secret: that the fruit surrounding the coffee bean is remarkably rich in antioxidants. After discovering the free-radical-fighting potency of this "secret superfruit," he worked to create delicious, refreshing beverages by combining fresh exotic juices, white tea extract and coffeefruit extract, sweetened with organic stevia. The Bai5 line, with 10 flavors, and the Bai Bubbles line, with 7 varieties, are available in stores nationwide and online. For more information, visit http://www.drinkbai.com.