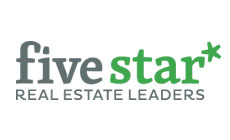 We provide the tools and systems required for success without a lot of excess, levels of bureaucracy or expenses that are so common.
Michigan (PRWEB) December 08, 2014
Five Star Real Estate has experienced a 65% increase in agent numbers over the past three years and, in response, has opened five additional locations in 2014 in Caledonia, Muskegon, Kalamazoo, Big Rapids and Grand Rapids East Beltline to meet needs. Office staff has also doubled in size, prompting the company to roll out their innovative paperless transaction platform to streamline processes.
Realtor Paul Carlson credits the company's growth to training, education, technology, agent support and compensation.
"Five Star is positioned uniquely due to the agent cost structure and an impressive array of educational opportunities keep our agents in a position to offer expert counsel and advice," said Carlson. "We provide the tools and systems required for success without a lot of excess, levels of bureaucracy or expenses that are so common."
The increase in employment and agents over the past 3 years is attributed to numerous factors including Five Star Real Estate's innovative training program that offers classes each week, new locations and the continued growth exhibited by West Michigan's real estate market as well as the economic turnaround.
"When Five Star Real Estate was formed in 1996, we envisioned a company that empowered agents to create their personal real estate business as a profitable and sustainable career," said Greg Carlson, broker and owner of Five Star Real Estate. "Our education and mentoring services are second to none and our growth in the past year is proof of this."
Five Star Real Estate anticipates continued growth in Grand Rapids into the New Year, with a projection of 25% as the goal while also building a strong presence in both Muskegon and Kalamazoo.
"Since we are not part of a massive corporate franchise, we're able to invest back into our agents through training, education and marketing support on a face-to-face level," said Carlson. "The average agent in the U.S. closes between seven and eight transactions in a year – our agents average 17 closings a year."
The real estate market has seen great upheaval over the last several years, but there is new optimism that the worst days are behind us as the market has heated up; some areas even exhibit a shortage of listings.
For more information on the Five Star Real Estate Leaders, please visit: http://www.fivestarmichigan.com/.
About Five Star Real Estate Leaders
Five Star Real Estate Leaders was founded in 1996 by three local Realtors who envisioned a better way to do business. They knew there was much a broker could bring to the table to create a win-win-win – a win for the consumers first and foremost, a win for the agents and a win for the company. This vision has been the guiding principle that has allowed Greg Carlson, broker/owner of Five Star, to attract some of the highest quality agents available. These are agents who are dedicated to providing outstanding customer care and zealous representation for their clients while always reflecting the company's commitment to excellence.