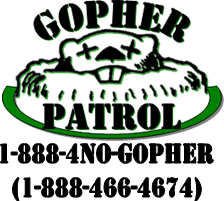 "Here at Gopher Patrol we have The Rodent Guy! Call Today."- Ethan HernandezGeneral Manager
Riverside, CA (PRWEB) December 07, 2014
When it comes to pest control, it's not always about nuisances of the six-legged kind. There are plenty of furry four-legged critters than can cause havoc with your lawn or garden and cause need for rodent control.
To the casual observer, there's not much difference between rats and mice. But the one thing they both have in common is their ability to be disruptive and harmful to any environment they happen upon. Rats and mice aren't too picky when it comes to what they eat and can get into everything from grains and cereals left in bags or cardboard boxes to birdseed and other types of pet food. Even worse, both can carry nasty bacteria and diseases.
While we love to think of squirrels happily munching on nuts, leaves and berries, they are omnivores and won't hesitate to dig up insects or even small mice. This can wreak havoc on fields, farms and gardens as the rodents will dig up plants, seeds and more to get to whatever they're looking to devour for dinner.
In many instances, the squirrel's prosperity has a lot to do with the (oftentimes unintentional) generosity of humans – something that is quite in abundance around Southern California. Instead of searching out a tree to nest in, squirrels may make themselves at home in an attic – setting up leaves and fluff and getting comfortable out of the reach of predators. Likewise, pet food left out in the open, unattended garbage cans or birdseed left in reachable spots offer an easy food source.
Always remember that control and prevention is usually the best rodent control. Take them on head-to-head by checking out the pest control company in Southern California that can help you out. Gopher Patrol is offering extended rodent winter specials through January 2015 such as free inspection, and mention this article and there will be $150 off rodent exclusion service!
Rodents are a quick to spread species, so it is best to contain them at the first sighting. For a full rodent inspection, keep Gopher Patrol's experts in mind.