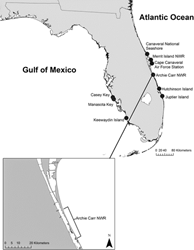 Given that the sea level has risen 146 mm in 112 years, and continues to rise at a more rapid pace, the erosion of beaches will also continue more rapidly.
Lawrence, KS (PRWEB) December 08, 2014
Chelonian Conservation and Biology – The central east coast of Florida is home to one of the largest nesting grounds of loggerhead turtles in the Western hemisphere. Over the period of 31 years, the Archie Carr National Wildlife Refuge has had an estimated 358,243 turtle nests laid on its beach. This refuge spans some 21 km, of which, 34.5% is publicly owned, 49.8% is residential, 12.6% is commercial, and the remaining 3.1% are small gaps used for public beach access.
An article in the journal Chelonian Conservation and Biology presents data from 1982 to 2012, showing the sea turtle reproduction trends of this area; this is one of the longest, continuous datasets available for sea turtle nesting. The authors show that for over 31 years, the Carr Refuge has been one of the most important areas for loggerhead nesting in the entire Western Hemisphere, and their survival my hinge on preventing beach erosion, which appears to be the biggest factor in egg survival.
The researchers studied hundreds of loggerhead nests and made six classifications of "egg-fate": (1) preyed upon by raccoons, (2) eaten by ghost crabs, (3) washed out by erosion, (4) spoiled, (5) prematurity, and (6) a set of other factors (e.g., pipped eggs, infertile eggs, live and dead hatchlings, and infiltration by plant roots). Ultimately, erosion was the main reason that eggs did not reach full maturation.
The authors believe that given the egg-fate tied to erosion, a plan of action needs to be put in place to guard against the pending effects of climate change. Given that the sea level has risen 146 mm in 112 years, and continues to rise at a more rapid pace, the erosion of beaches will also continue more rapidly. This may cause the 49.8% of residential and 12.6% of commercial properties to reinforce their structures on the refuge. Armoring these properties would be disastrous for the habitat. A strategic plan could help prevent this and tackle the problem of naturally occurring erosion issues as well.
Full text of the article, "Long-Term Trends in Loggerhead (Caretta caretta) Nesting and Reproductive Success at an Important Western Atlantic Rookery," Chelonian Conservation and Biology, Vol. 13, No. 2, 2014, is available at http://www.chelonianjournals.org/doi/full/10.2744/CCB-1100.1
###
About the Chelonian Conservation and Biology
Chelonian Conservation and Biology is a scientific international journal of turtle and tortoise research. Its objective is to share any aspects of research on turtles and tortoises. Of special interest are articles dealing with conservation biology, systematic relationships, chelonian diversity, geographic distribution, natural history, ecology, reproduction, morphology and natural variation, population status, husbandry, community conservation initiatives, and human exploitation or conservation management issues. For more information, please visit http://www.chelonian.org/ccb/.